Serving Salem and
the Willamette Valley Since 1961
How to Rock a Not-White Kitchen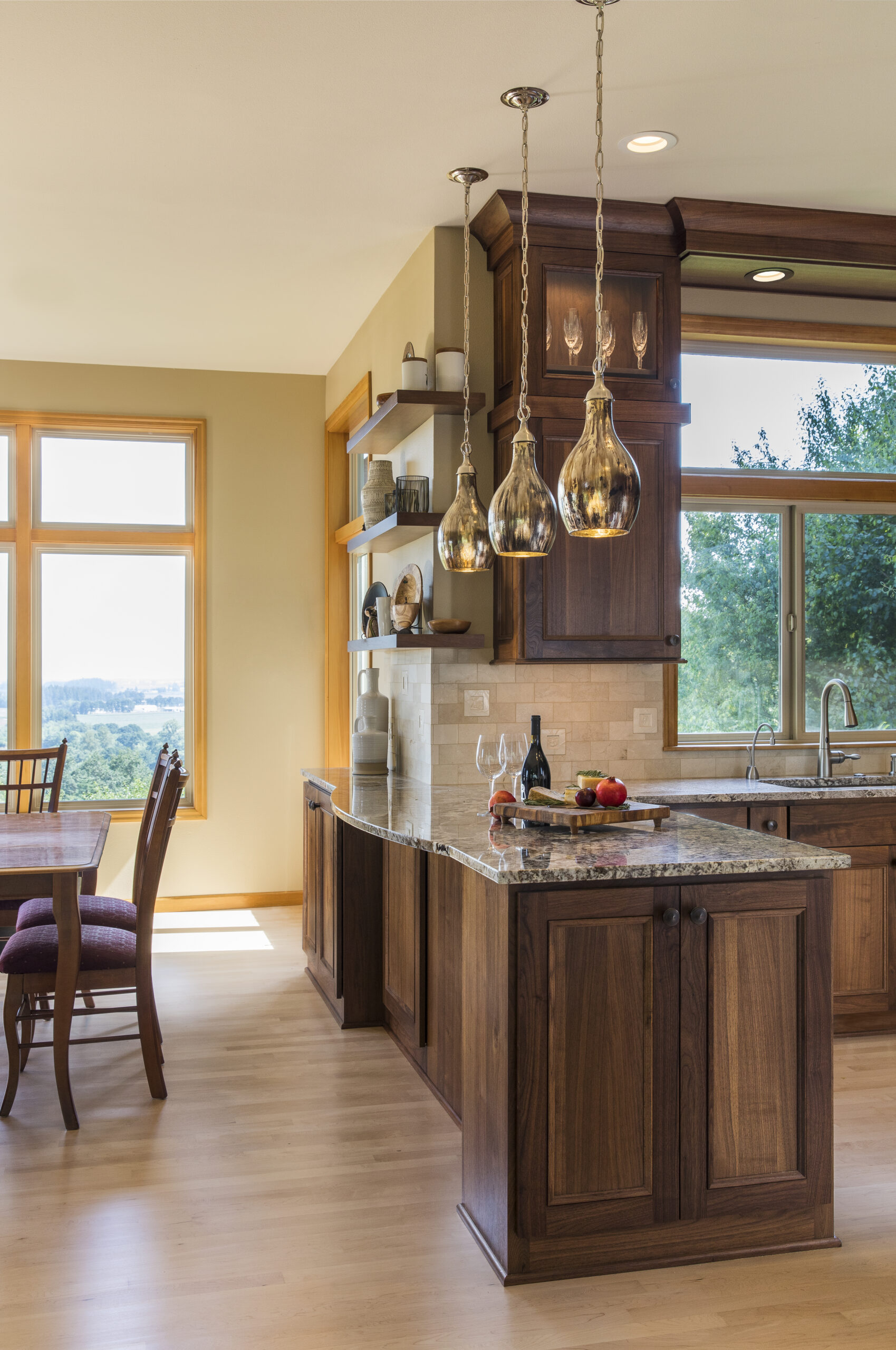 An Organic Approach to Kitchen Cabinets
Yes, white kitchens continue to be very popular, but not everyone is crazy about white. Fortunately, there are some really awesome on-trend alternatives that will also stand the test of time.
Painted cabinets are an obvious option, but when it comes to making a personal statement, it is hard to beat wood cabinets—whether they are stained or left natural.
A Case For American Black Walnut
One of the most beautiful and dramatic wood cabinet choices is American Black Walnut. Its deep, rich tones evoke an organic warmth that is unequaled. Because of the strength and stability of Walnut, it is an excellent choice for cabinets.
In this kitchen, the warm wood relates to the bucolic rural setting. Natural light streams through the windows and reflects off the stone surfaces, light floors, glass doors, and stainless steel.
Designer Tip: For a striking contrast, opt for darker floors if your cabinets are light. If your cabinets are dark, choose a lighter floor color.
Notice how the light and dark bars of color in Black Walnut gives a sense of visual texture. Combined with a design that emphasizes multi-height dimensions, as well as the use of floating shelves, this kitchen functions as a piece of art.
These photos were taken by David Papazian Photography.
But wait, there's more!
Check out these kitchens that also feature wood cabinets in a variety of tones and designs.http://remodelsalem.com/2018/06/contemporary-kitchen-remodel/
http://remodelsalem.com/2018/07/how-to-make-a-kitchen-bigger-and-brighter/
http://remodelsalem.com/2018/06/contemporary-kitchen-remodel/
http://remodelsalem.com/2018/02/mid-century-modern-kitchen-renovation/
And just to add something different to the non-white kitchen options, take a look at these painted cabinets:
http://remodelsalem.com/2018/07/making-a-house-feel-like-home/
Share this entry
Schedule a Free Consultation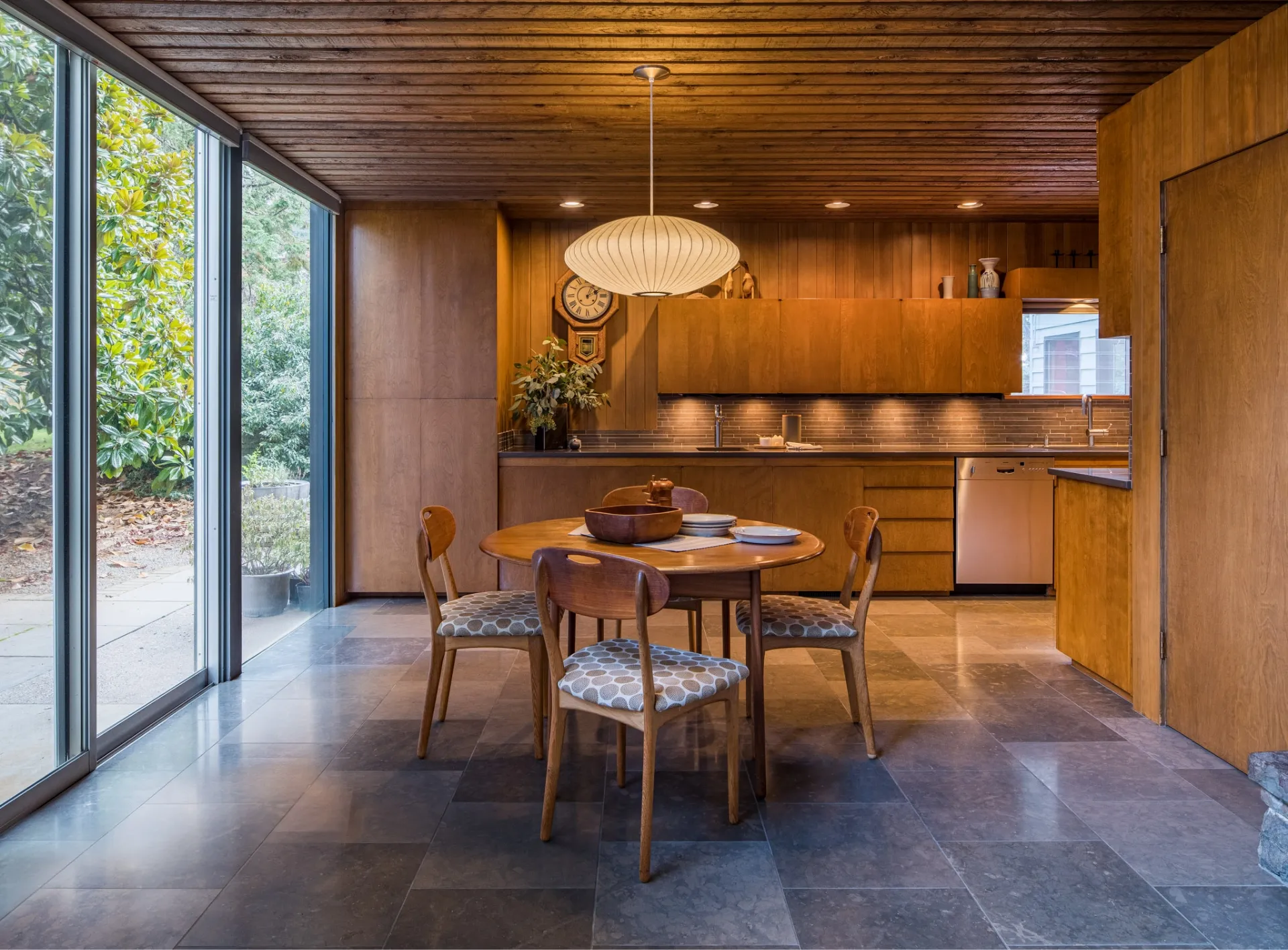 From the initial meeting with Beth to the closeout visit, working with C&R was a pleasure. Beth listened, offered advice, and was willing to work within our budget. Every worker who came to our home was punctual, courteous, and cleaned up each day. We truly could not have asked for a better experience!
Nancy B
Staff were so skilled, knowledgeable, and professional. The design team was so easy to work with and immediately saw our vision. The result is so beautiful! We highly recommend this company, you will never be disappointed.
Dick and Joi Hayden
Excellent service and workmanship. We could not be happier with our kitchen remodel. Beth helped design the perfect kitchen and our Lead Carpenter completed the work in a timely and professional manner. Everyone we came in contact with at C&R was great—we are already working with them on a second project!
Roslyn Owen
C & R did a kitchen remodel for us November-December 2021. From start to finish, they provided EXCELLENT service. Beth guided us expertly through making decisions on products and design. Mark led their team of professionals to expertly …
Christy Austin
We just completed a remodel of a 1980 sunroom to utility room, as well as expanding the downstairs bedroom, bath, half bath and closet and are thrilled with the result. It was a pleasure to work with C & R. We were so impressed with the …
Janet Lorenz
Schedule a Free Consultation
Read More Or Submit Your Review
Sign Up to Receive the C&R Monthly Email Newsletter