Serving Salem and
the Willamette Valley Since 1961
Kitchen Remodeling: A Country Kitchen
Attention to Detail Brings Remodeled Kitchen to Life
When your home sits atop a hill and boasts a panoramic valley view, a stark white kitchen starved for natural light takes little advantage of the  beautiful setting. These homeowners knew they wanted a significant change. They wanted something warm and rich…a kitchen that would complement and relate to the verdant landscape outside. They decided to call on C&R Remodeling for some expert help.
As they worked with C&R to craft the perfect design, they recognized that it would be a challenge to fit all the amenities they wanted into the existing kitchen layout. But the designers paid particularly close attention to every detail, and in the end they were able to get what they wanted without moving any walls, plumbing, or appliance connections.
Here is a view of the existing kitchen, prior to any remodeling:
During construction, the first step was to gut the entire kitchen down to the studs and haul away all the debris. The room then offered a clean slate for the craftsmen to perform some remodeling magic. One of the first big changes was to remove the existing small window and enlarge the opening to accommodate an expansive picture window. The white vinyl frame complements the decor. Notice how the tile backspash surrounds the window making it an integral part of the kitchen design.
The neutral colored tile backsplash is accented by a custom tile mosaic behind the cooktop. Not only does it provide an easy way to keep the wall clean from cooking splatters, it also gives a striking focal point in the room.
 Storage Options A Priority
One of the biggest reasons for remodeling was the need for extra storage. Without changing the footprint of the room, C&R Remodeling designers came up with a variety of ways to provide the storage they needed. One of the solutions was this tall yet narrow pull-out pantry. Now the homeowners have easy access to a wide variety of goods. Not only are they accessible, but easy to find with the shelves open to either side.
Another storage solution was installed in what is typically a "dead corner". You know the space—where you store the waffle iron, fondue pot, or other kitchen items you rarely need. This handy system allows the owners to pull these stainless steel shelves out of the corner space for access to items used every day.
A Design Twist Adds Style
In addition to practicality, the homeowners wanted to add something unique to their every day lifestyle. This kitchen "landing pad" gave them a central location to organize their lives. But by turning the end cabinet 90 degrees to face the dining room, the small area became a wonderful place to display  treasures and provide yet another interesting focal point.
These homeowners were so delighted with how their kitchen turned out that they asked C&R Remodeling to remodel their bathroom!
* * *
The designers, consultants, and craftsmen of C&R Remodeling create beautiful and highly functional kitchens, bathrooms, additions, decks, patio covers, and whole house remodels. Schedule your personal, in-home consultation by calling 503-363-1343 or completing the "Contact Us" form on this page.
Share this entry
Schedule a Free Consultation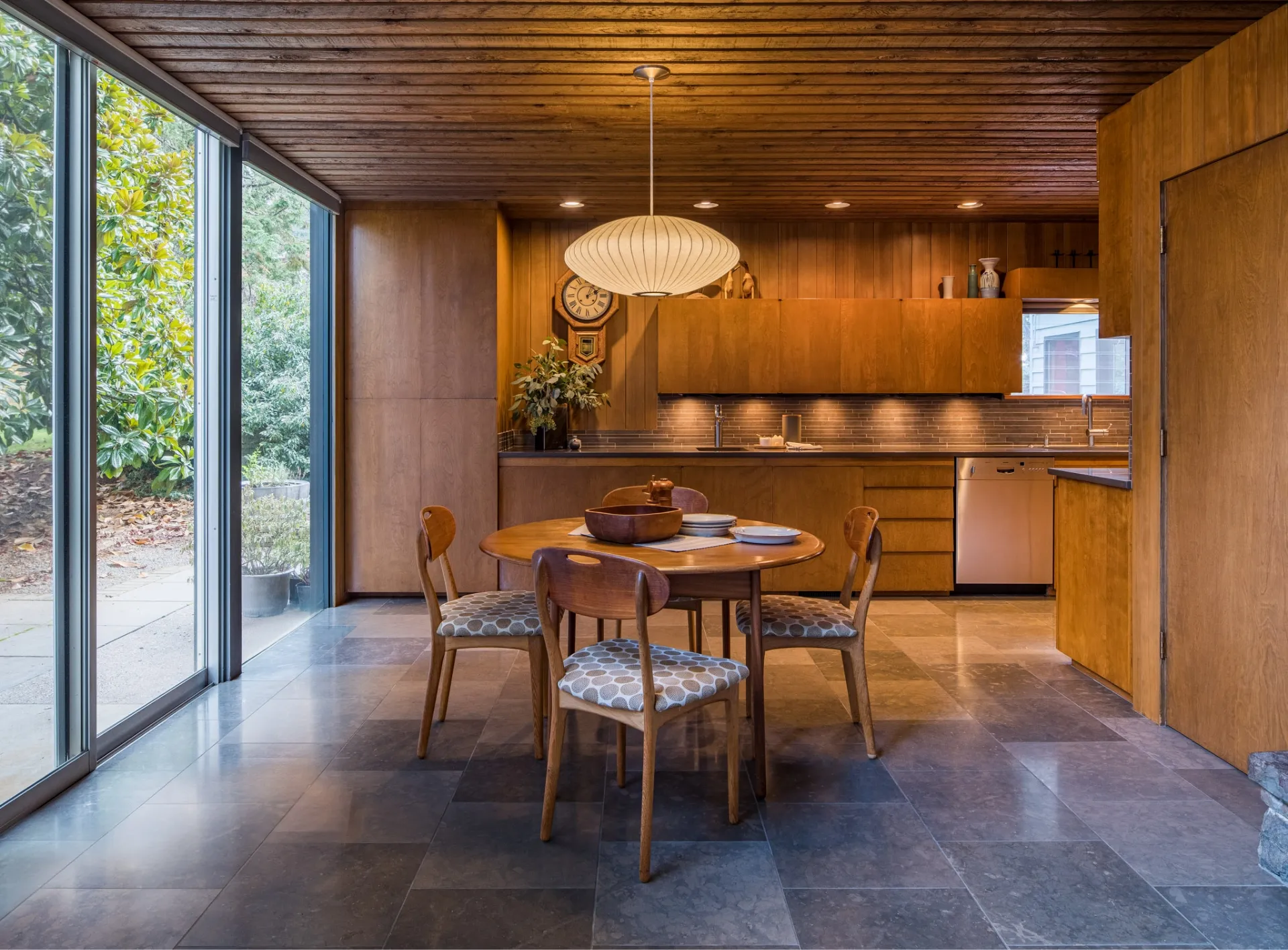 From the initial meeting with Beth to the closeout visit, working with C&R was a pleasure. Beth listened, offered advice, and was willing to work within our budget. Every worker who came to our home was punctual, courteous, and cleaned up each day. We truly could not have asked for a better experience!
Nancy B
Staff were so skilled, knowledgeable, and professional. The design team was so easy to work with and immediately saw our vision. The result is so beautiful! We highly recommend this company, you will never be disappointed.
Dick and Joi Hayden
Excellent service and workmanship. We could not be happier with our kitchen remodel. Beth helped design the perfect kitchen and our Lead Carpenter completed the work in a timely and professional manner. Everyone we came in contact with at C&R was great—we are already working with them on a second project!
Roslyn Owen
C & R did a kitchen remodel for us November-December 2021. From start to finish, they provided EXCELLENT service. Beth guided us expertly through making decisions on products and design. Mark led their team of professionals to expertly …
Christy Austin
We just completed a remodel of a 1980 sunroom to utility room, as well as expanding the downstairs bedroom, bath, half bath and closet and are thrilled with the result. It was a pleasure to work with C & R. We were so impressed with the …
Janet Lorenz
Schedule a Free Consultation
Read More Or Submit Your Review
Sign Up to Receive the C&R Monthly Email Newsletter