Serving Salem and
the Willamette Valley Since 1961
Is It Better to Remodel or Move to a New House?
Jo Koenig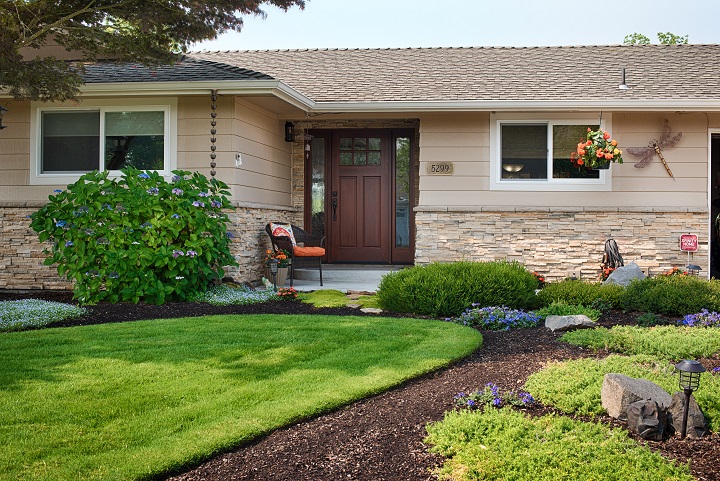 One Couple's Story
This North Salem couple felt very dissatisfied with how their ranch-style house looked and functioned. They assumed their only choice was to relocate to a newer house with better amenities. After spending months looking at houses, they realized that their current property location simply could not be replicated. Also, they discovered that most other houses would need at least some renovation. So they began to talk about remodeling instead of moving, and called C&R to explore their options.
When we visited for the first time, we could see that moving would be unnecessary. The house had 'good bones' and the location was to die for. We immediately began working to create a design that would satisfy all their needs.
Homeowner Goals and Needs
Enlarge and update hall and master bathrooms
New interior doors, exterior windows
Complete interior re-paint
New carpet and hardwood flooring
Update masonry on living room fireplace
New front door and entry
Update 70's era exterior to reflect a more current style with curb appeal
The Challenge of Whole House Remodeling
A project this extensive presents a big choice for the homeowners. Stay and live in a tiny area of the home or move out and trust the contractor to fulfill your wishes. These homeowners opted to move out.
Here is what they had to say about their decision and how it worked out: "We moved out and dropped in periodically unannounced. The house and grounds were always clean. Communication with Mark, our Lead Carpenter, was great. If there was ever a question he was always on hand for answers or changes. As for the craftsmanship, it was top line. Couldn't have asked for better!"
Bathroom Solutions: Creative Design
Both bathrooms were typical of 1970's layouts–small and cramped. To enlarge them both, we needed to come up with some extra square feet within the existing footprint. Our solution was to shrink the adjacent laundry closet by stacking the washer and dryer.  We also removed the Master Bedroom Closet which freed up even more space.
More Challenges
But space was not the only issue. The original Master Bathroom was not just small, it also lacked a natural light source. And once we removed the bedroom closet to create a bigger bathroom, we needed to find a place for all their clothes, shoes, and accessories.

Bathroom Suite
We built a new walk-in closet at the end of the new master bathroom, complete with custom clothing rods and shelving. There is now plenty of well-organized storage for all their personal items. We like to call this their 'bathroom suite' because it combines all the conveniences of a bathroom and dressing area.
To infuse the room with natural light, we installed a new fixed-glass window above the mirrors. We also installed two undermount sinks instead of the single basin. A new comfort-height toilet tucks behind the new tile shower.
Hall Bathroom Also Shines
The hall bathroom benefited from a complete remodel including a new tile shower where the fiberglass tub/shower once stood.
A clean, white vanity crowned with Quartz countertop, under-mount sink, tile backsplash, and framed mirror complete the total renewal of this beautiful hall bathroom.

The Perfect Laundry Closet
The homeowners were delighted to discover how their new laundry closet functions just as well as the old one while taking up much less floor space.

Gracious Great Room Updates
The fireplace is a primary focal point and gracefully connects the living and dining rooms. Before the remodel, the fireplace screen and outdated brick dampened any visual impact when visitors entered the front door. Now, the exterior stone and fireplace stone create a pleasing, welcoming bridge between outdoors and indoors.
We completely refaced the masonry and removed a ceiling beam that jutted downward into the stone. The result is a stunning transformation of the entire great room.
Rooms That Soothe and Delight
The wall color complements new décor pieces throughout the house which were hand-selected. They beautifully reflect C&R Designer Linda Stewart's and the homeowner's impeccable taste. According to the homeowner, "Working with Linda was the best. Being able to go to C&R's design studio and having everything brought to us was amazing. Linda was the one who brought it all together."
"It's Like a New House!"
We replaced the old front door with a new insulated, double-side-lite door. We also installed all new windows for function, style, and energy efficiency.  New stonework and paint completely transformed the exterior. The owners absolutely love their 'new home in the same location'.
 "Can't say enough about the bathrooms and the whole house, it is just amazing. We have a brand new home. After going through several remodels on other homes, this was by far the easiest and most successful project we have ever been through. Thanks to C&R and their whole team!"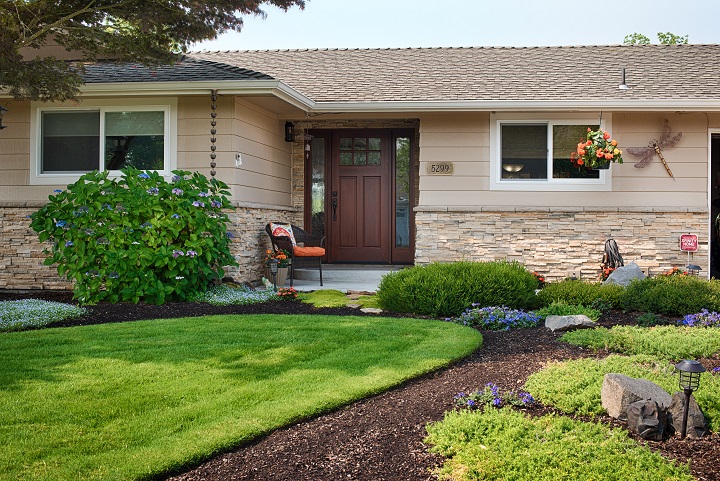 Delightful Décor
Because we were touching so many areas of the house, we had the opportunity to make sure every room related gracefully to all the others. The materials used in each remodeled room now complement the house design as a whole.
Need help with your own aging house? Contact the experts at C&R Design/Remodeling and we'll help you get started. Our team can provide ideas and options that can make your home the one you had always wished for!
Share this entry
Schedule a Free Consultation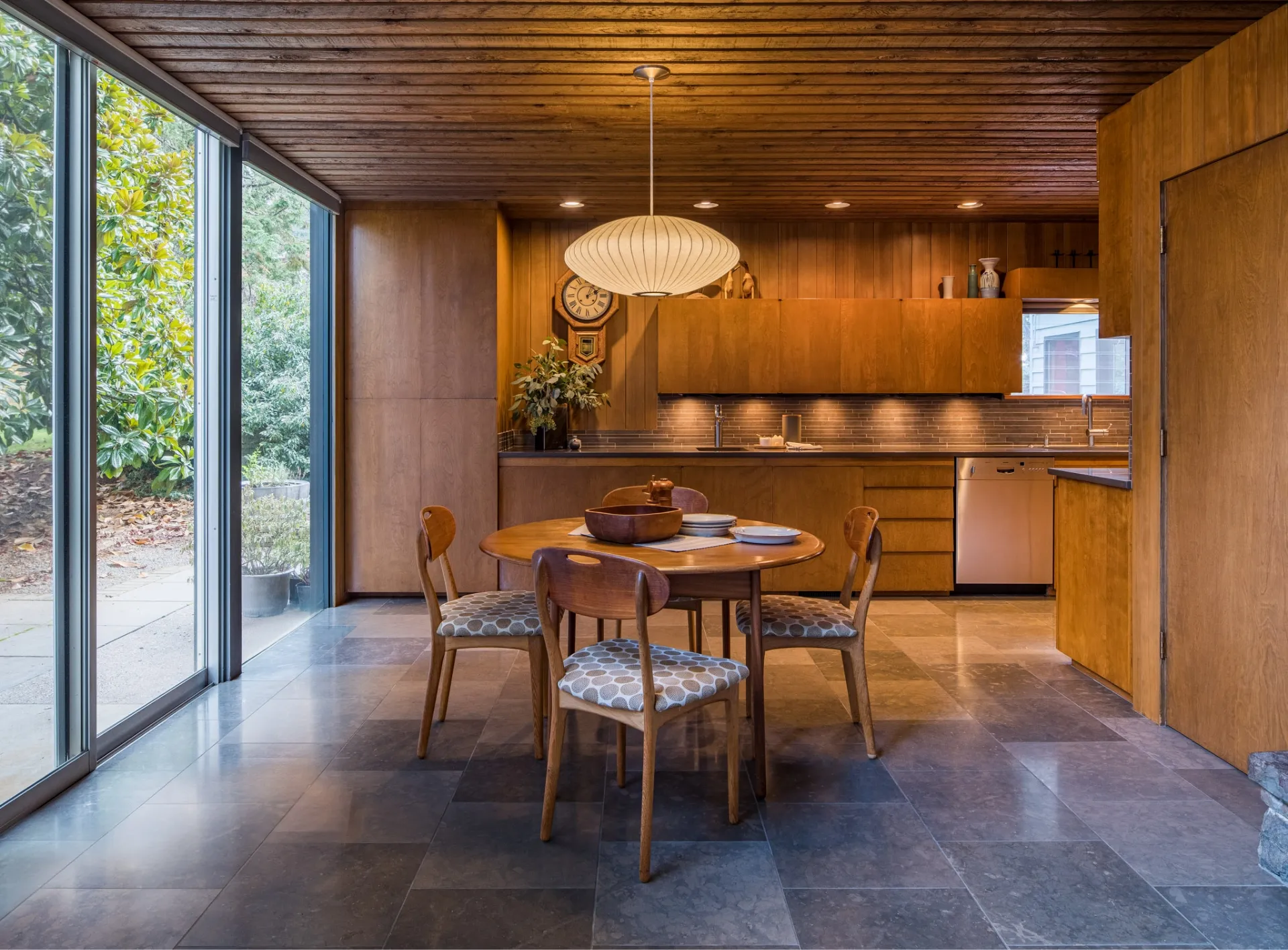 From the initial meeting with Beth to the closeout visit, working with C&R was a pleasure. Beth listened, offered advice, and was willing to work within our budget. Every worker who came to our home was punctual, courteous, and cleaned up each day. We truly could not have asked for a better experience!
Nancy B
Staff were so skilled, knowledgeable, and professional. The design team was so easy to work with and immediately saw our vision. The result is so beautiful! We highly recommend this company, you will never be disappointed.
Dick and Joi Hayden
Excellent service and workmanship. We could not be happier with our kitchen remodel. Beth helped design the perfect kitchen and our Lead Carpenter completed the work in a timely and professional manner. Everyone we came in contact with at C&R was great—we are already working with them on a second project!
Roslyn Owen
C & R did a kitchen remodel for us November-December 2021. From start to finish, they provided EXCELLENT service. Beth guided us expertly through making decisions on products and design. Mark led their team of professionals to expertly …
Christy Austin
We just completed a remodel of a 1980 sunroom to utility room, as well as expanding the downstairs bedroom, bath, half bath and closet and are thrilled with the result. It was a pleasure to work with C & R. We were so impressed with the …
Janet Lorenz
Schedule a Free Consultation
Read More Or Submit Your Review
Sign Up to Receive the C&R Monthly Email Newsletter