Serving Salem and
the Willamette Valley Since 1961
How to Add Room Without Building an Addition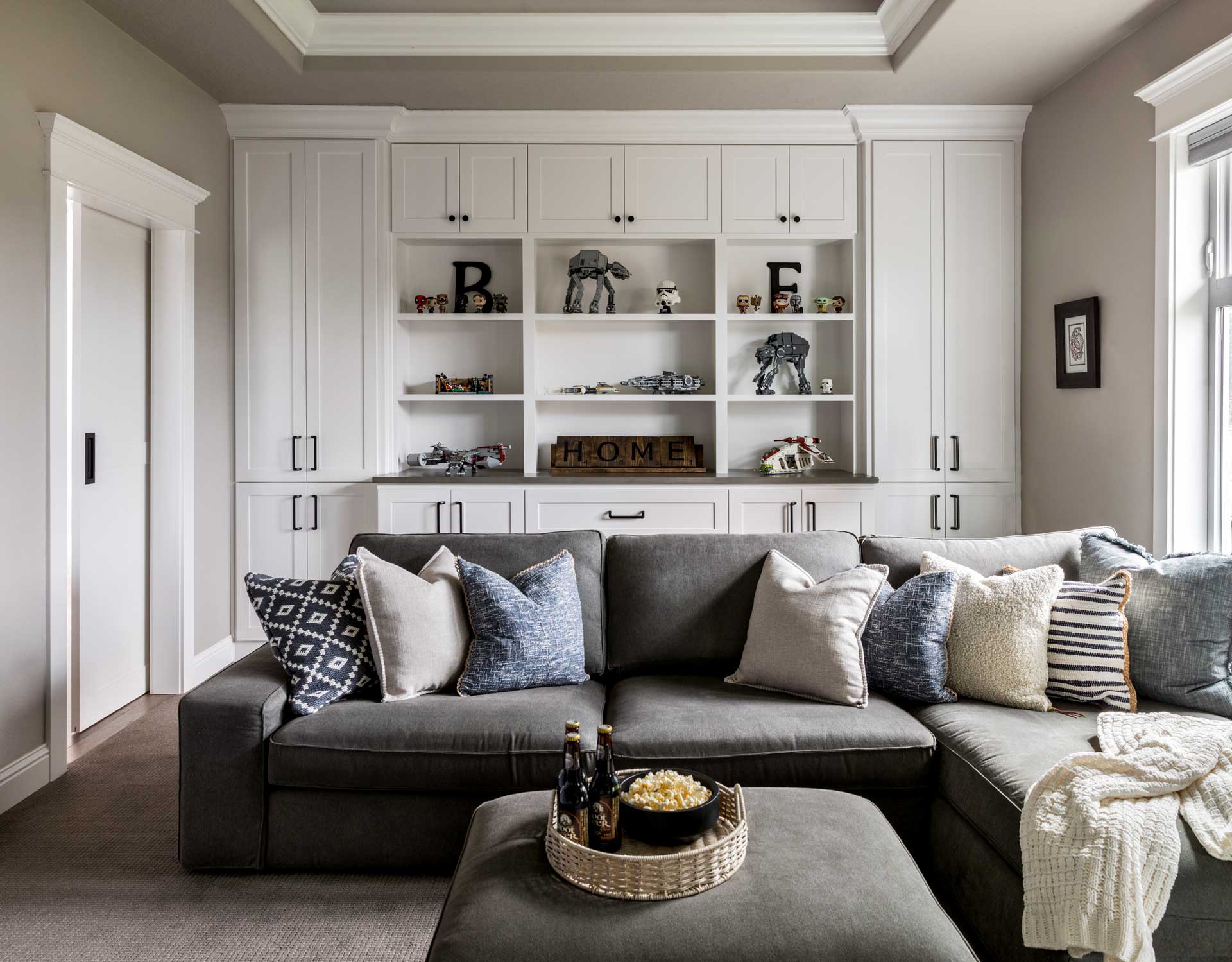 Sometimes Adding Walls Is A Good Thing
Like so many others, this family of five experienced five emotional stages during the pandemic as they adjusted to working at home, schooling at home, doing everything at home:
Hoping that Covid would only be a temporary disruption
Realizing restrictions would not be short-term
Making the best of working, schooling, and isolating at home
Experiencing a deeper familiarity with their home and family interactions as the months passed
Deciding to remodel
Design Objectives
They knew they wanted specific changes not only to make Covid restrictions more bearable. They also wanted to enrich their post-Covid lives as well.
One priority was making modification to facilitate their pre-teen boys as they grew. They also wanted designated rooms to cordon off quiet activities from play and give the grown-ups room for a bit of solitude.
We worked with them to develop a plan addressing both current and future needs in the family room, study and office areas, master suite, and kitchen.
How We Did It: The Plan
We recognized that the best and most cost-efficient way to meet all their criteria was to capture space within the existing footprint and put it to good use.
A BRAND NEW MEDIA AND GAME ROOM
The existing living room had a soaring two-story ceiling with an open loft overlooking.  We walled in the loft and built new cabinets in that area for office and workspace.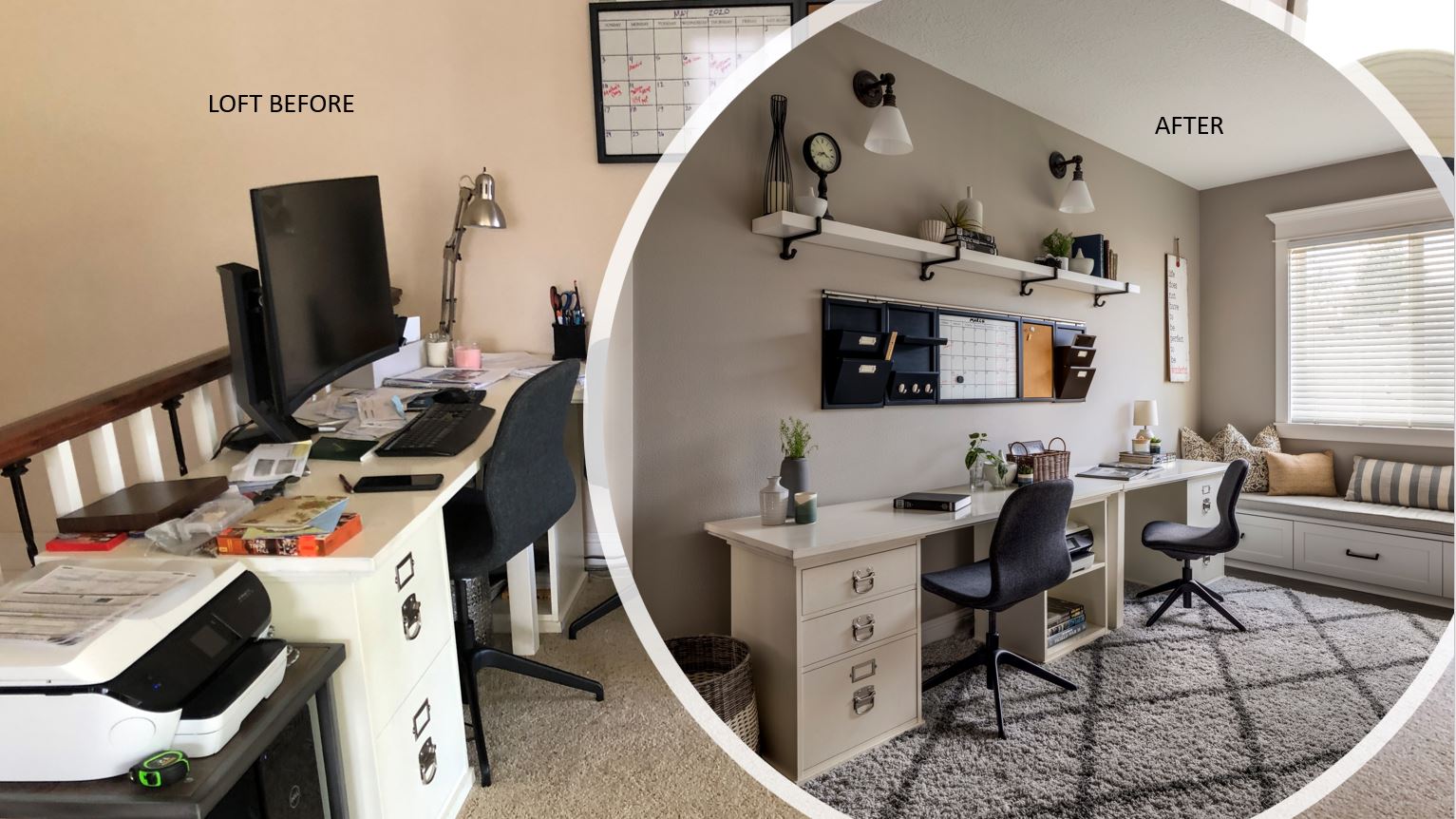 We captured the space above the living room by building a second story floor above the living room. This became a new media and game room with one TV for gaming and the other framed to look like a piece of art. Abundant closed storage keeps everything close at hand but not in constant visual contact.
With this new designated game room, video games are played in one room of the house instead of being spread throughout. As intended, now the bedrooms, living, dining, and workspaces feel like the bedrooms, living, dining, and workspaces they were intended to be.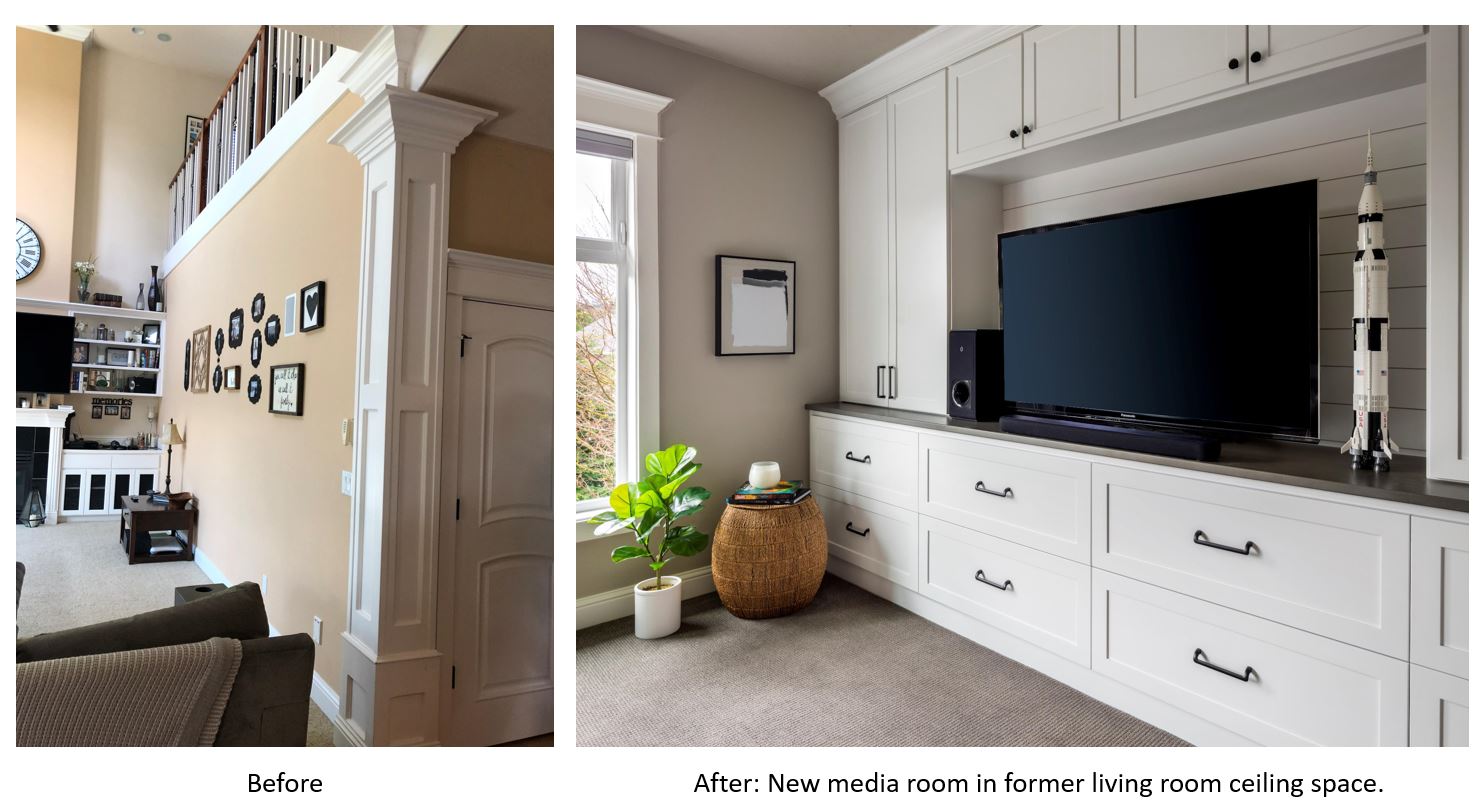 FAMILY MUDROOM AND STORAGE
The existing downstairs office was spacious enough that we could claim part of it as a family mudroom with storage. New office built-in cabinets take full advantage of the remaining space.
KITCHEN UPDATE
The kitchen had a good layout with solid cabinets and new appliances. To bring it up to date, we simply painted the cabinets then installed new hardware throughout. A beautiful tile backsplash makes it look like a brand-new kitchen.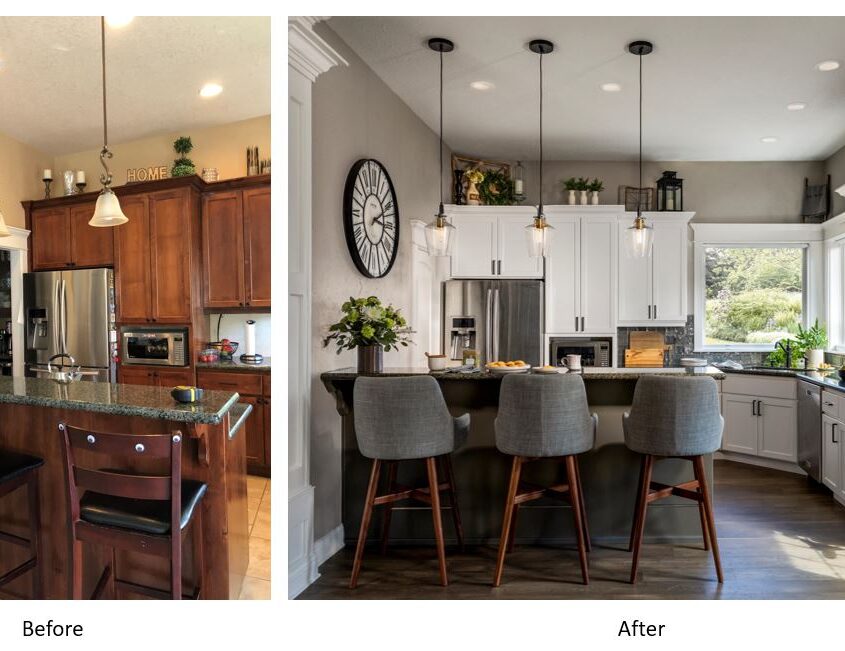 MASTER BATHROOM RETREAT
We updated the upstairs master bathroom to create a relaxing retreat for Mom and Dad. This new bathroom includes amenities that accommodate the 'away' time most parents crave.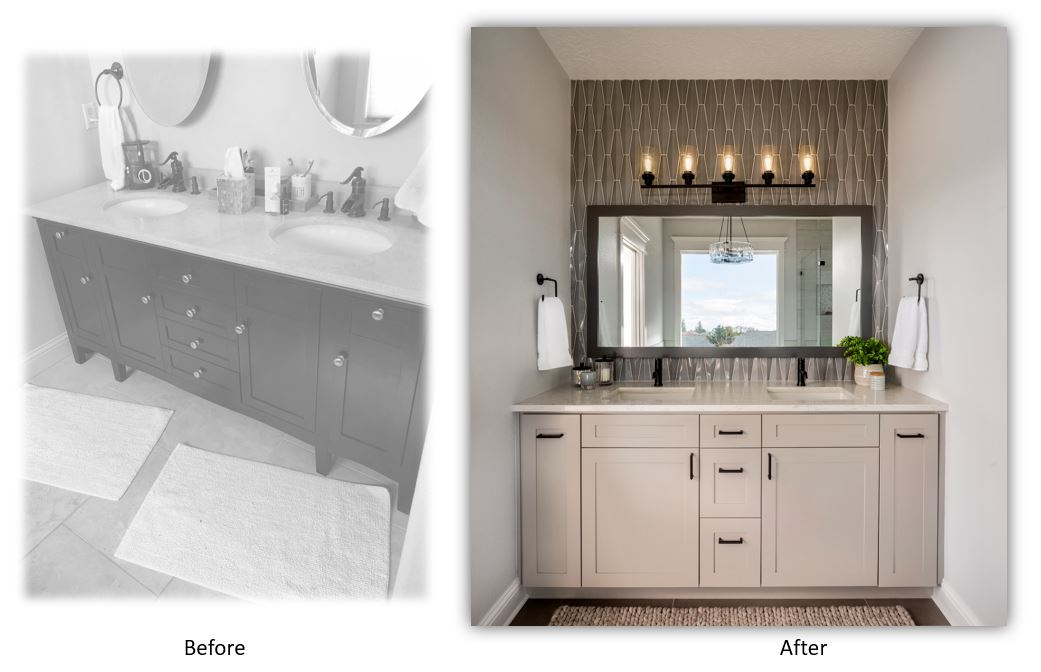 A new vanity, countertop, backsplash, and tile shower in soothing colors add a calming effect. No doubt, the chandelier-style light fixture and free standing tub give this master bathroom a true spa allure.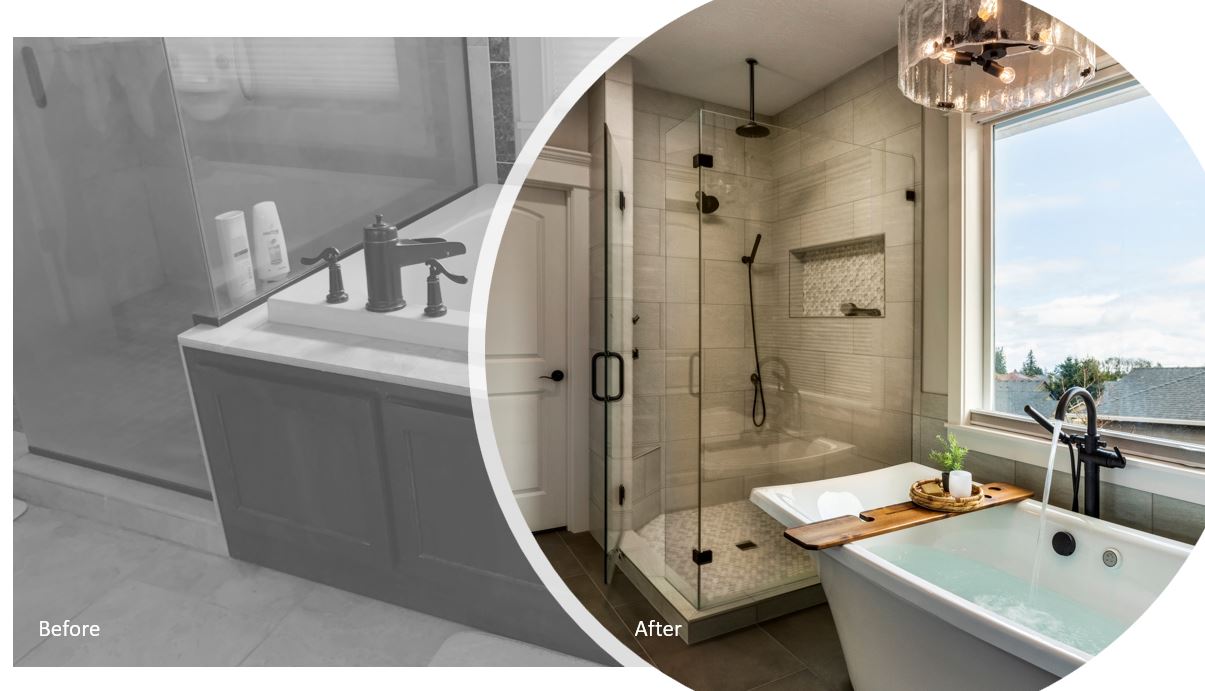 A Fabulous Result
The homeowners are absolutely delighted with the remodel. By creatively re-imagining and re-purposing existing space in the home, we were able to meet all their needs without adding one square inch to the footprint.
In an era where opening up one room to another is all the rage, sometimes creating walls can turn out to be the best thing.
Share this entry
Schedule a Free Consultation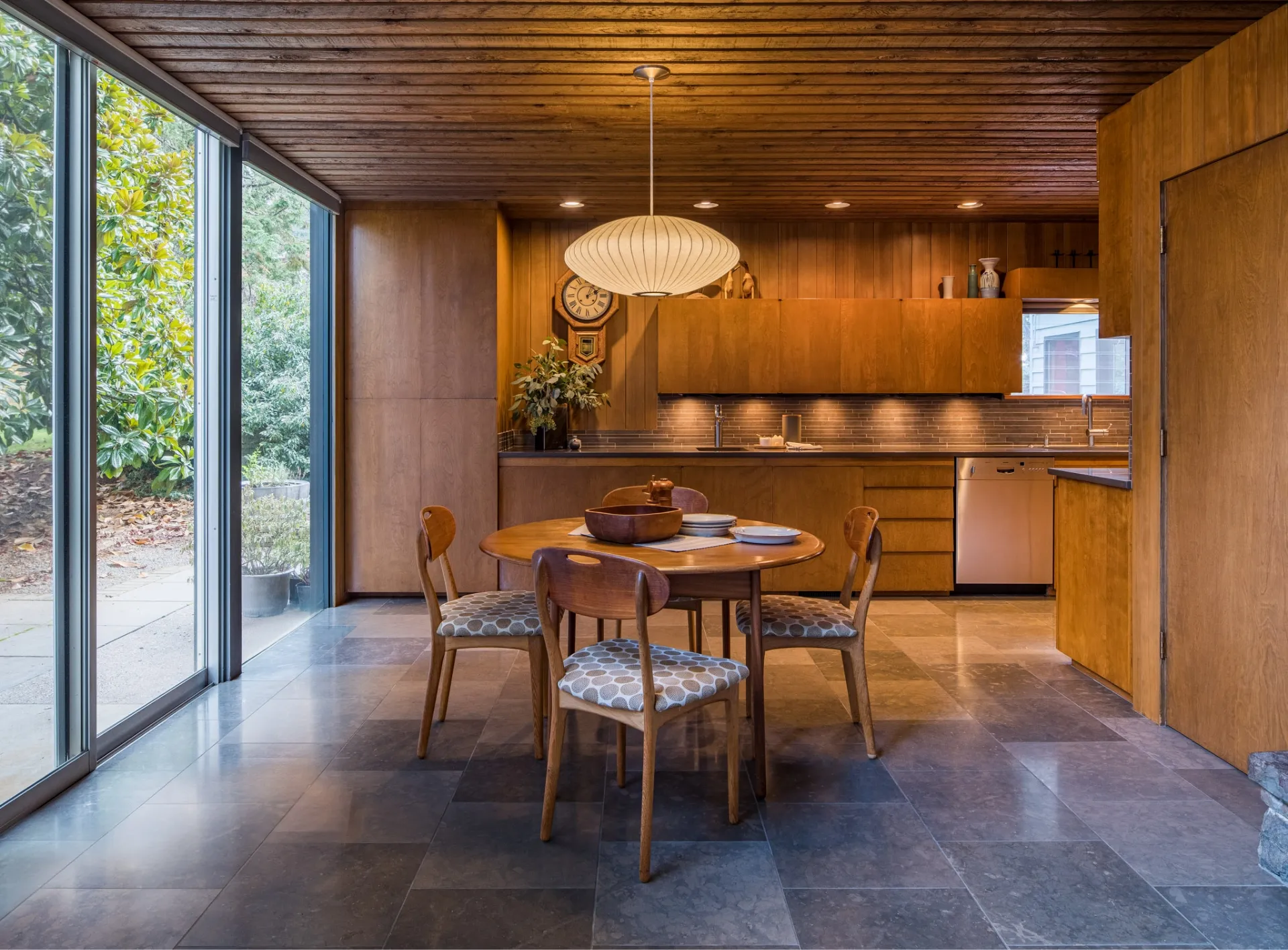 From the initial meeting with Beth to the closeout visit, working with C&R was a pleasure. Beth listened, offered advice, and was willing to work within our budget. Every worker who came to our home was punctual, courteous, and cleaned up each day. We truly could not have asked for a better experience!
Nancy B
Staff were so skilled, knowledgeable, and professional. The design team was so easy to work with and immediately saw our vision. The result is so beautiful! We highly recommend this company, you will never be disappointed.
Dick and Joi Hayden
Excellent service and workmanship. We could not be happier with our kitchen remodel. Beth helped design the perfect kitchen and our Lead Carpenter completed the work in a timely and professional manner. Everyone we came in contact with at C&R was great—we are already working with them on a second project!
Roslyn Owen
C & R did a kitchen remodel for us November-December 2021. From start to finish, they provided EXCELLENT service. Beth guided us expertly through making decisions on products and design. Mark led their team of professionals to expertly …
Christy Austin
We just completed a remodel of a 1980 sunroom to utility room, as well as expanding the downstairs bedroom, bath, half bath and closet and are thrilled with the result. It was a pleasure to work with C & R. We were so impressed with the …
Janet Lorenz
Schedule a Free Consultation
Read More Or Submit Your Review
Sign Up to Receive the C&R Monthly Email Newsletter