Serving Salem and
the Willamette Valley Since 1961
Hickory Cabinets Transform 1970's Kitchen
Jo Koenig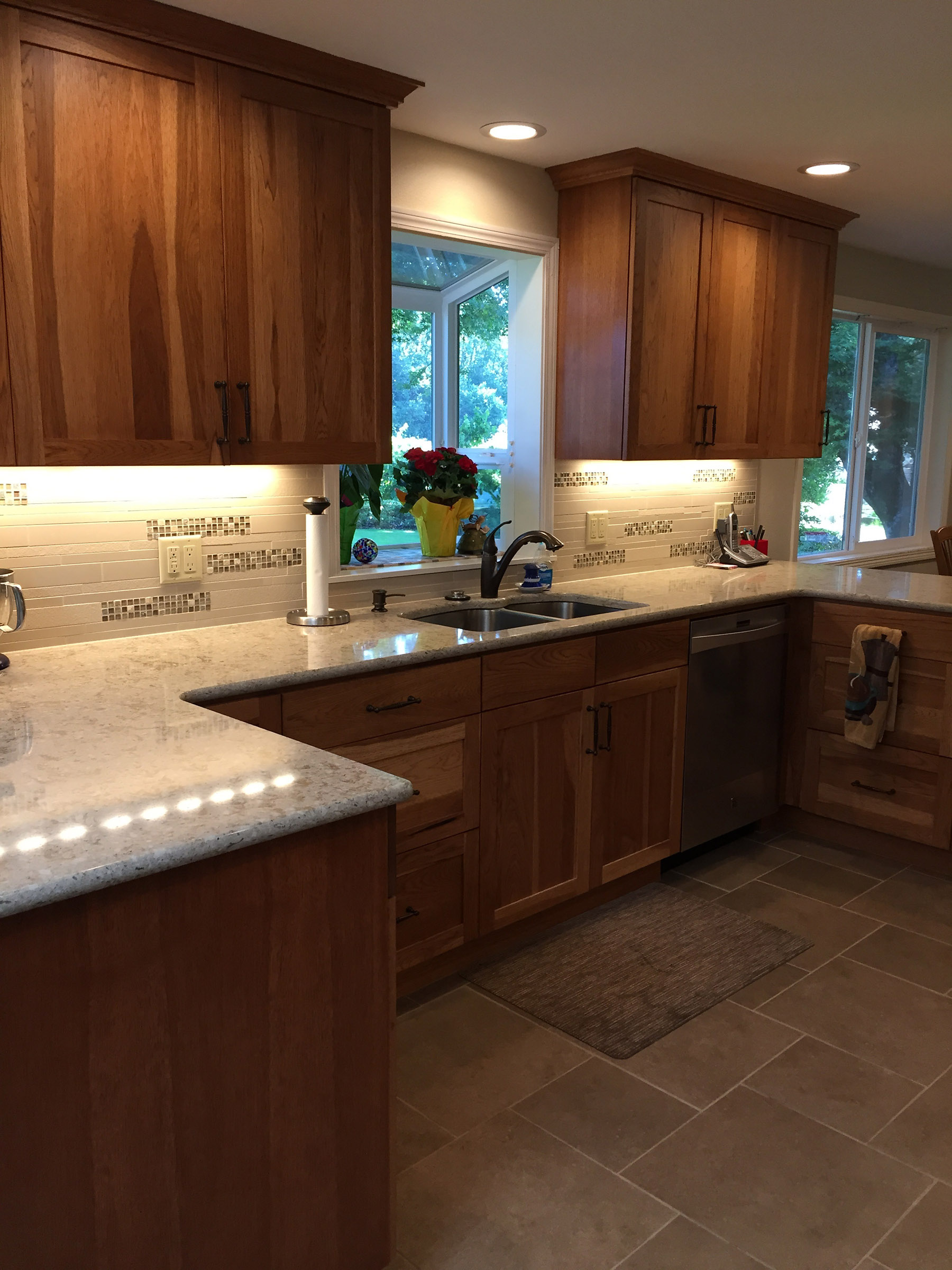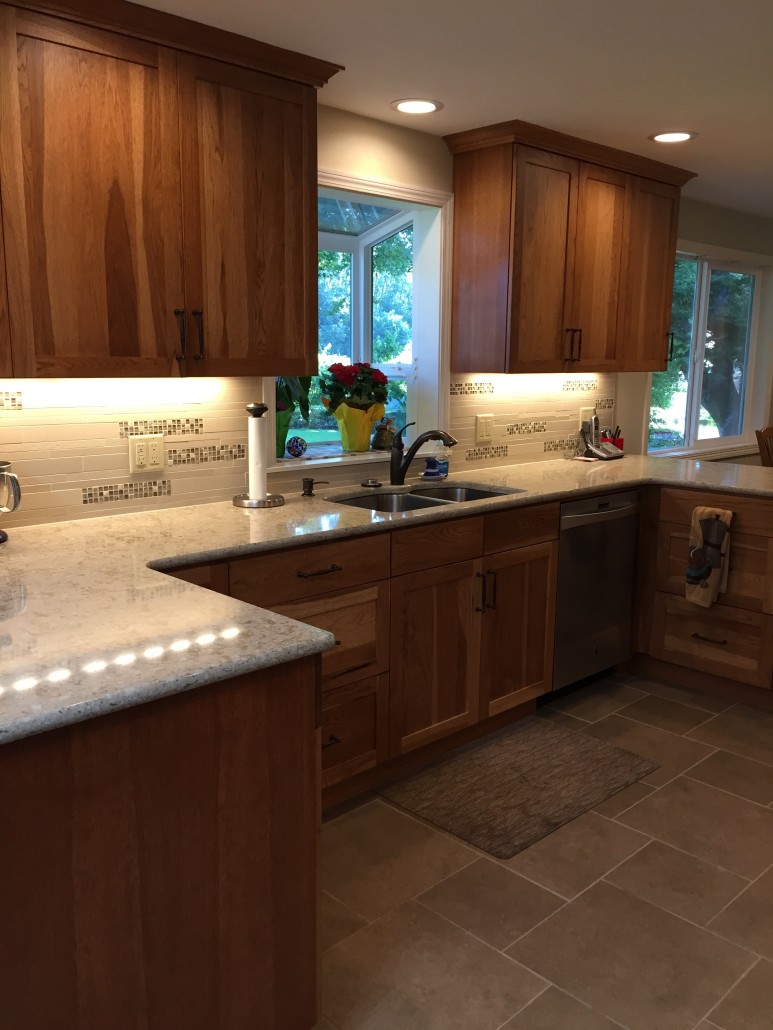 What to do when a house no longer meets your needs.
The owners of this 1970's era home found themselves in that situation. Their current home lacked so many conveniences and amenities that they considered their options:
sell their house and buy a different one,

tear down their house and build a new one,

remodel their existing home. 
After looking at lot sizes and evaluating costs, they decided to stay put and upgrade their home. They contacted C&R to help them with design and renovations. Everyone agreed that the kitchen was the best place to start.
The existing kitchen was separated from the dining room by a full wall, making the kitchen feel small and tight. The original dark-stained cabinets were reaching the end of their useful life. Because there was so little storage, cooking staples found a home on the countertops and mismatched shelving units. The space had only one single light fixture in the center of the room. It was a kitchen that had been well-loved for many years, but was definitely feeling it's age.  C&R Designers developed a plan that would provide more storage, light, and convenience. The materials were chosen to complement the owners' tastes and lifestyle.
Creative Storage Solutions
Once construction began, the first order of business was removing the ceiling soffits—those "dummy" sheetrocked spaces between the cabinets and ceiling. (Utilizing this space actually creates the possibility of 30% more storage!) Each cabinet was custom designed to maximize storage and convenience. The Lazy Susan in the corner was outfitted with doors on the back side to give dual access. To provide a "desk area" without an actual desk, drawers were built in to the cabinets under the telephone. This provides plenty of room to keep important papers and supplies at hand. A convenient, designated coffee bar was created in the family room.
Open Floor Plan Creates Space
C&R removed the wall between the kitchen and dining room to open up the space. Not only does the kitchen now have abundant natural light, homeowners and their guests enjoy free-flowing enjoyment of the combined rooms.
Quartz Popularity Continues
After mulling over the many options, the homeowners chose new Quartz countertops and helped design a custom mosaic tile backsplash to complement the stunning Hickory cabinets.
Project Designer Beth Rhoades says,
"The custom Hickory cabinets were stained to bring out the character of the wood without creating too much contrast.  The neutral colored wall paint and tile create a natural, soft background that tastefully highlights the cabinetry. We love how this kitchen turned out and the way it fits the owners' tastes and lifestyle so well."
A new lighting plan utilized energy-saving LED bulbs in multiple recessed and under-counter applications. The new appliances are all energy star rated, and the induction cooktop is more efficient than regular electric cooktops.
According to the homeowners,
"We are both extremely pleased with our kitchen and dining room remodel. We thoroughly enjoy the openness and new look!"
We are pleased to have helped this couple stay in the location they love AND live in a home they can truly enjoy.
For more stories like this, visit http://remodelsalem.com/blog/
Share this entry
Schedule a Free Consultation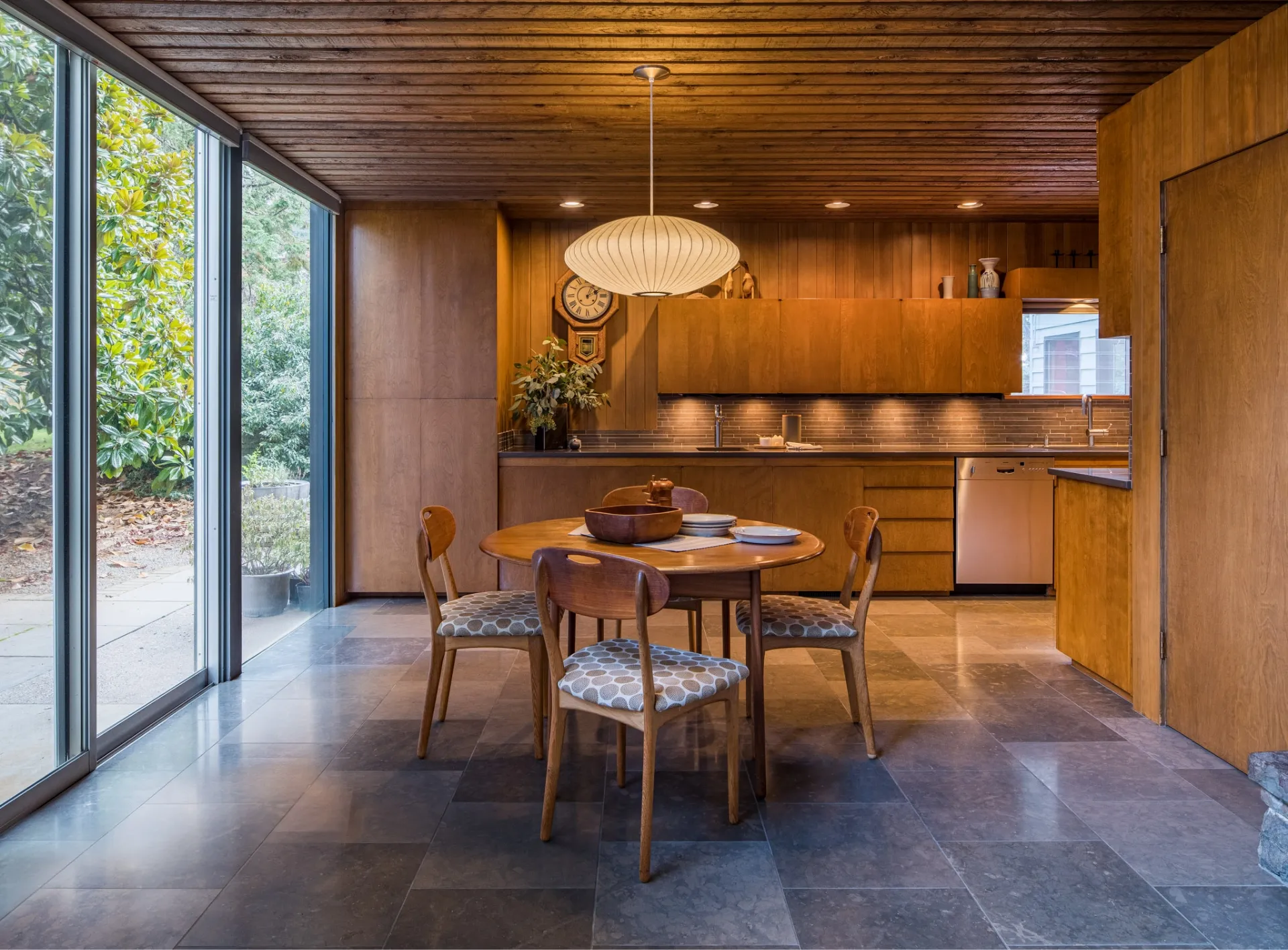 From the initial meeting with Beth to the closeout visit, working with C&R was a pleasure. Beth listened, offered advice, and was willing to work within our budget. Every worker who came to our home was punctual, courteous, and cleaned up each day. We truly could not have asked for a better experience!
Nancy B
Staff were so skilled, knowledgeable, and professional. The design team was so easy to work with and immediately saw our vision. The result is so beautiful! We highly recommend this company, you will never be disappointed.
Dick and Joi Hayden
Excellent service and workmanship. We could not be happier with our kitchen remodel. Beth helped design the perfect kitchen and our Lead Carpenter completed the work in a timely and professional manner. Everyone we came in contact with at C&R was great—we are already working with them on a second project!
Roslyn Owen
C & R did a kitchen remodel for us November-December 2021. From start to finish, they provided EXCELLENT service. Beth guided us expertly through making decisions on products and design. Mark led their team of professionals to expertly …
Christy Austin
We just completed a remodel of a 1980 sunroom to utility room, as well as expanding the downstairs bedroom, bath, half bath and closet and are thrilled with the result. It was a pleasure to work with C & R. We were so impressed with the …
Janet Lorenz
Schedule a Free Consultation
Read More Or Submit Your Review
Sign Up to Receive the C&R Monthly Email Newsletter