Serving Salem and
the Willamette Valley Since 1961
Award Winning Colorful Kitchen
Jo Koenig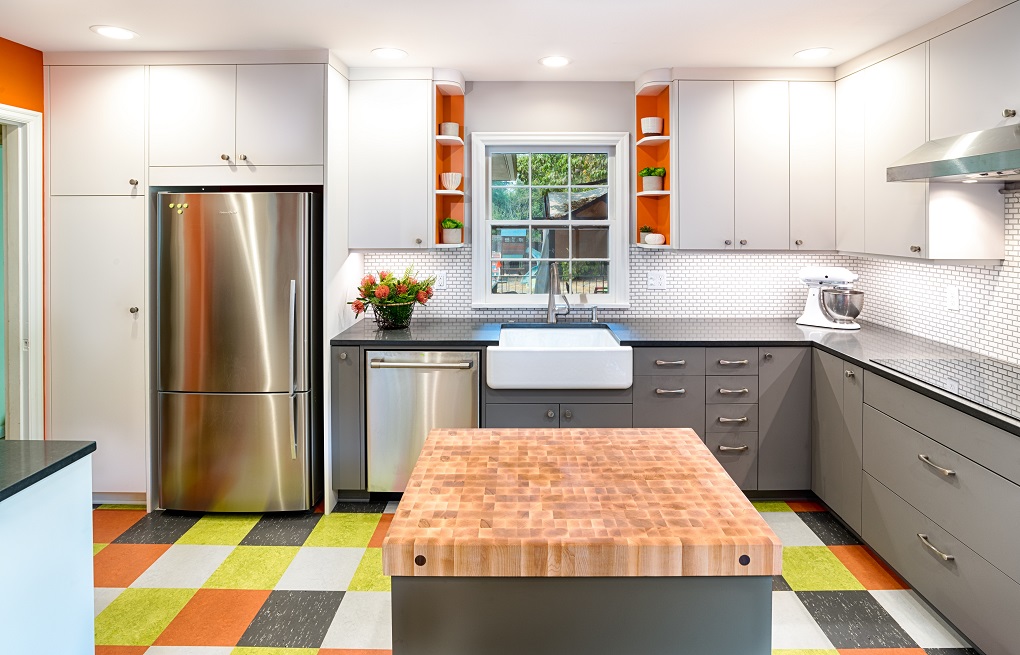 Retro appeal with contemporary amenities
These homeowners purchased a World War II era home as newlyweds. At that time, the vintage cabinets and sequestered kitchen/nook felt charming and homey. But after their first child was born, they began to view things in a different light. With the imminent arrival of child number two, they contacted us for help with crucial changes.
Their immediate goal was to make their kitchen more conducive to family life. They wanted better traffic flow, well-planned storage, a comfortable nook/dining area, and an atmosphere that reflected the joyful spirit of their communal lives.
They asked that our design pay tribute to the history of the house while including all the modern conveniences. They also stressed that they would like to incorporate their love of color, putting their personal stamp on a clean white kitchen.
Kitchen Remodel Project Overview:
Design services including material selection and cabinetry layout. 3-D design for new kitchen layout.
Deconstruction with careful attention to dust protection and air filtration (special consideration for the pregnant Mom).
New cabinets from "Phoenix", a brand new product on the market with hard surface doors, drawer fronts, and face frames
Caesarstone "Raven" T-profile countertops for perimeter. Butcher block countertop for island. Painted wood bench top.
Tile backsplash, Ann Sacks Savory Mosaic, Rice Paper with Classic Grey trim piece.
Prime and paint interior walls and ceiling. Wall color: Field Poppy.
New plumbing and electrical fixtures. Relocate fixtures to accommodate new plan.
Drywall patching and blending.
Custom Marmoleum floor with hand-cut tiles in designer-specified pattern.
New French pocket doors to fill new wider opening between kitchen and dining room.
Kitchen Before design/remodel
The original kitchen was cramped and dark.
Cabinets were circa 1940's and the doors/drawers were difficult to operate.
An abnormal-height peninsula divided the kitchen and nook areas inhibiting traffic flow and making the kitchen difficult to work in. The peninsula countertop had a slight overhang but not enough to provide comfortable seating on a stool.
The original lighting plan consisted of one overhead fixture in the center of the room and one fixture over the sink.
A drop-down decorative soffit over the peninsula created a visual barrier in the middle of the space.
Soffits above the cabinets limited storage capacity in upper cabinetry.
Kitchen After Reno
This kitchen is now a bright and sunny space, even on the cloudiest winter days. And the new layout makes the entire room function with ease of circulation and movement.
We replaced the existing peninsula with an island complete with a naturally anti-microbial wood butcher block countertop.
Additional perimeter cabinets along the right hand wall provide extra counter space.
Rounded display shelves framing the window pay homage to the home's design and offer a beautiful update on the theme.
A farm sink is the perfect blend of modern convenience and retro style. The lower profile will also work well for younger children.
Details Matter
Color is definitely the star of the show in this kitchen. Contrasting colors on upper and lower cabinets provide interest.
Full extension soft-close drawers and pull-out pantry shelves offer the maximum in kitchen convenience.
The Fenix® cabinet line used throughout provides an innovative and stylish matte finish, featuring nanotechnology for extreme durability.
–Thermal healing of micro scratches
–Anti-fingerprint
–Soft touch
–Enhanced anti-bacterial properties
–Resistance to dry heat
–High resistance to acid solvents and household agents
Nook Area before design/remodel
This view shows the opposite end of the original kitchen, facing the wall shared with the formal dining room.
A single 2'6" door separated the kitchen from the dining room.
An ironing board closet took up much of the available wall space, forcing the nook table into the tight corner on the left.
Fresh fruit was stored on the table because there was no open shelving in the kitchen.
Nook Area after design/remodel
A custom banquette makes the most of this sunny corner. The custom cushions were fashioned using designer-specified fabric that repeats the colors of the walls, floor, cabinets, and countertops.
Deep pull-out drawers in the banquette seat with unobtrusive easy-pull hardware neatly store books, art & office supplies, and an occasional toy.
As the toddlers get older, this corner will be the perfect place to do homework while being near Mom and Dad.
Pantry Before design/remodel
This pantry area adjoining the dining room door at the end of the nook had space-wasting soffits and a unimaginative layout.
It also lacked open storage for fresh produce, one of the homeowners' most ardent requests.
Pantry After design/remodel
The new pantry cabinets boast wire baskets to store CSA deliveries of fresh produce.
Full-extension drawers separate upper and lower doors and are a handy location for kitchen utensils.
Behind the large cabinet doors are adjustable shelves to conveniently house a variety of small kitchen appliances.
Cabinets & Refrigerator Area Before design/remodel
An existing closet area performed a lot of roles including family laundry hamper and dog food container. The family wished to retain those functions for convenience. A laundry chute connected to the upstairs hallway occupied a good portion of the closet. As built, the existing soffits limited available storage and the cabinet above the refrigerator was almost impossible to access.
Cabinets & Refrigerator Area After design/remodel
We removed the soffits and installed full-depth cabinets to the side and over the top of the new refrigerator.
The challenge was to modify the new cabinets to accommodate existing plumbing pipes, metal laundry chute and laundry basket, while leaving room for essential dog food storage.
A generous number of recessed lights and undercabinet lights now flood the entire room with brightness.
Desk Area Before design/remodel
An odd little 'desk' area had little use other than to catch clutter and did not contribute to the overall functionality of the kitchen.
Our team helped the homeowners re-imagine how this space could be transformed to its highest and best use.
Desk area After design/remodel
We re-worked the desk area to include new double ovens and storage cabinets. The space now functions as part of the kitchen instead of being an ignored corner.  A 'landing' countertop adjacent to ovens provides convenience and safety when baking. Rounded decorative shelves repeat the shape, size, and color of the shelves by the sink. These were the only cabinets hand-crafted and painted on site.
Rounded molding was also hand-crafted to fit perfectly at the top of each rounded decorative shelf unit. Ann Sacks Savory Mosaic tile with Warm Grey Mapei grout delivers classic lines and colors in the full height backsplash.
For Little Cooks
The custom built island is slightly shorter than the perimeter countertops in anticipation of the day the children will be helping with kitchen activities. Baking Christmas cookies will be a delight for them!
The countertop is naturally anti-microbial side-grain Western Maple. The island cabinet paint color repeats the color of the perimeter lower cabinets.
A Cozy Family Corner
Homeowners purchased a table for the nook but it didn't work with the space. Our Lead Carpenter took the table, removed the table top, fabricated a new custom top, then affixed it to the base from their table. The laminate and contrasting edge band colors complement the rest of the kitchen perfectly.
We upholstered new banquette seating with fabric that picks up the paint, cabinet, and floor colors.
Fantastic Flooring
Forbo Marmoleum flooring superbly meets the homeowners' criteria for sustainability, easy-maintenance, and color by using Red Copper, Lime, Silver Shadow, and Volcanic Ash in a classic, timeless pattern. It also fulfills the need for anti-microbial, eco-friendly materials.
To attain the intentional, vintage pattern, each piece of flooring was painstakingly hand-cut from a roll and installed according to our designer's specifications. The non-skid surface enhances the safety of a room that, with children, can often turn into a 'wet zone'.
Are You Ready to Rock Your Kitchen?
Whatever your style, from traditional,  contemporary, or bright and colorful, we are ready to help you achieve your own kitchen bliss. Give us a call today to schedule your free in-home consultation!
Share this entry
Schedule a Free Consultation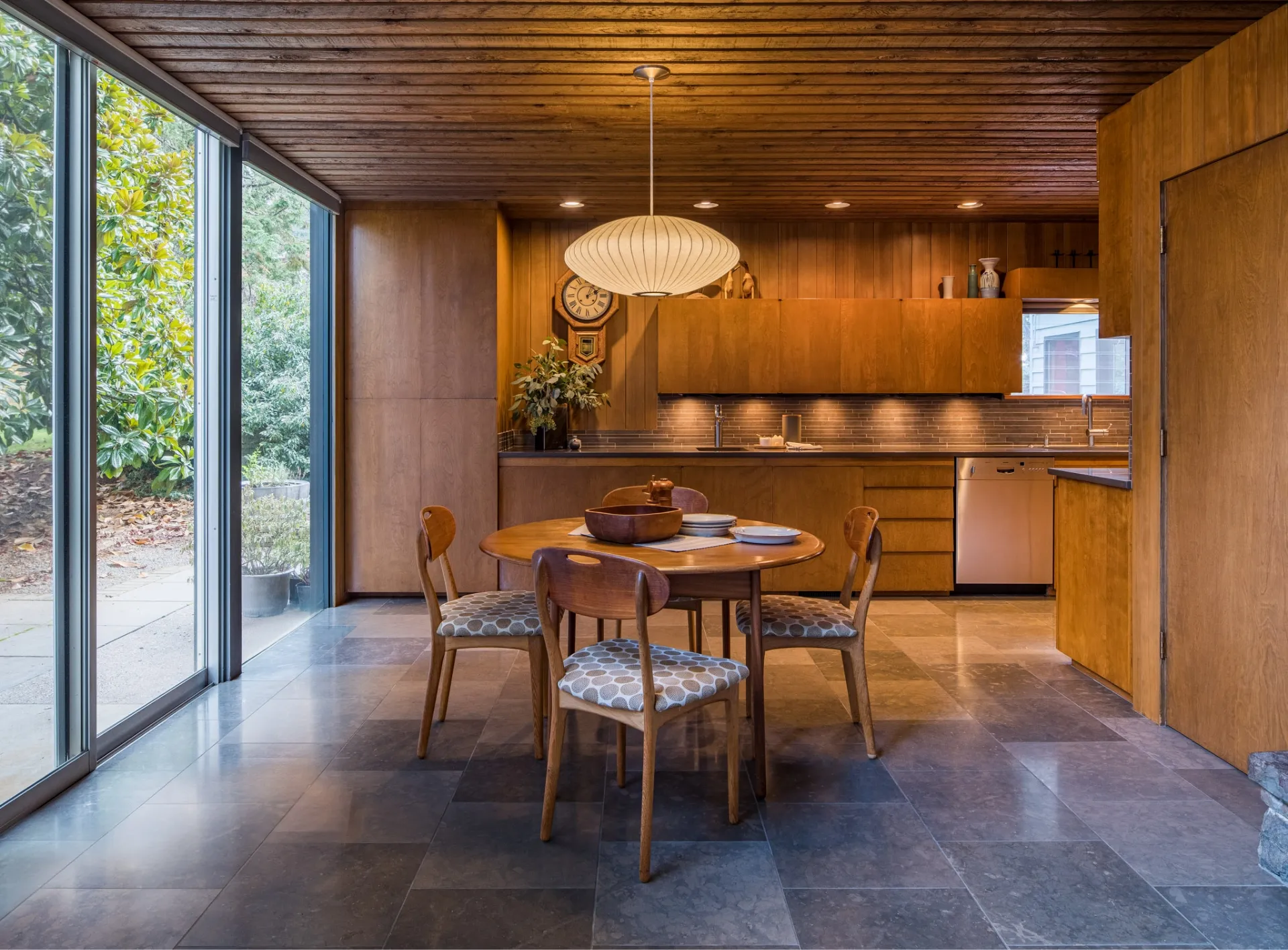 From the initial meeting with Beth to the closeout visit, working with C&R was a pleasure. Beth listened, offered advice, and was willing to work within our budget. Every worker who came to our home was punctual, courteous, and cleaned up each day. We truly could not have asked for a better experience!
Nancy B
Staff were so skilled, knowledgeable, and professional. The design team was so easy to work with and immediately saw our vision. The result is so beautiful! We highly recommend this company, you will never be disappointed.
Dick and Joi Hayden
Excellent service and workmanship. We could not be happier with our kitchen remodel. Beth helped design the perfect kitchen and our Lead Carpenter completed the work in a timely and professional manner. Everyone we came in contact with at C&R was great—we are already working with them on a second project!
Roslyn Owen
C & R did a kitchen remodel for us November-December 2021. From start to finish, they provided EXCELLENT service. Beth guided us expertly through making decisions on products and design. Mark led their team of professionals to expertly …
Christy Austin
We just completed a remodel of a 1980 sunroom to utility room, as well as expanding the downstairs bedroom, bath, half bath and closet and are thrilled with the result. It was a pleasure to work with C & R. We were so impressed with the …
Janet Lorenz
Schedule a Free Consultation
Read More Or Submit Your Review
Sign Up to Receive the C&R Monthly Email Newsletter