Serving Salem and
the Willamette Valley Since 1961
How to Make a Small Kitchen Roomy and Efficient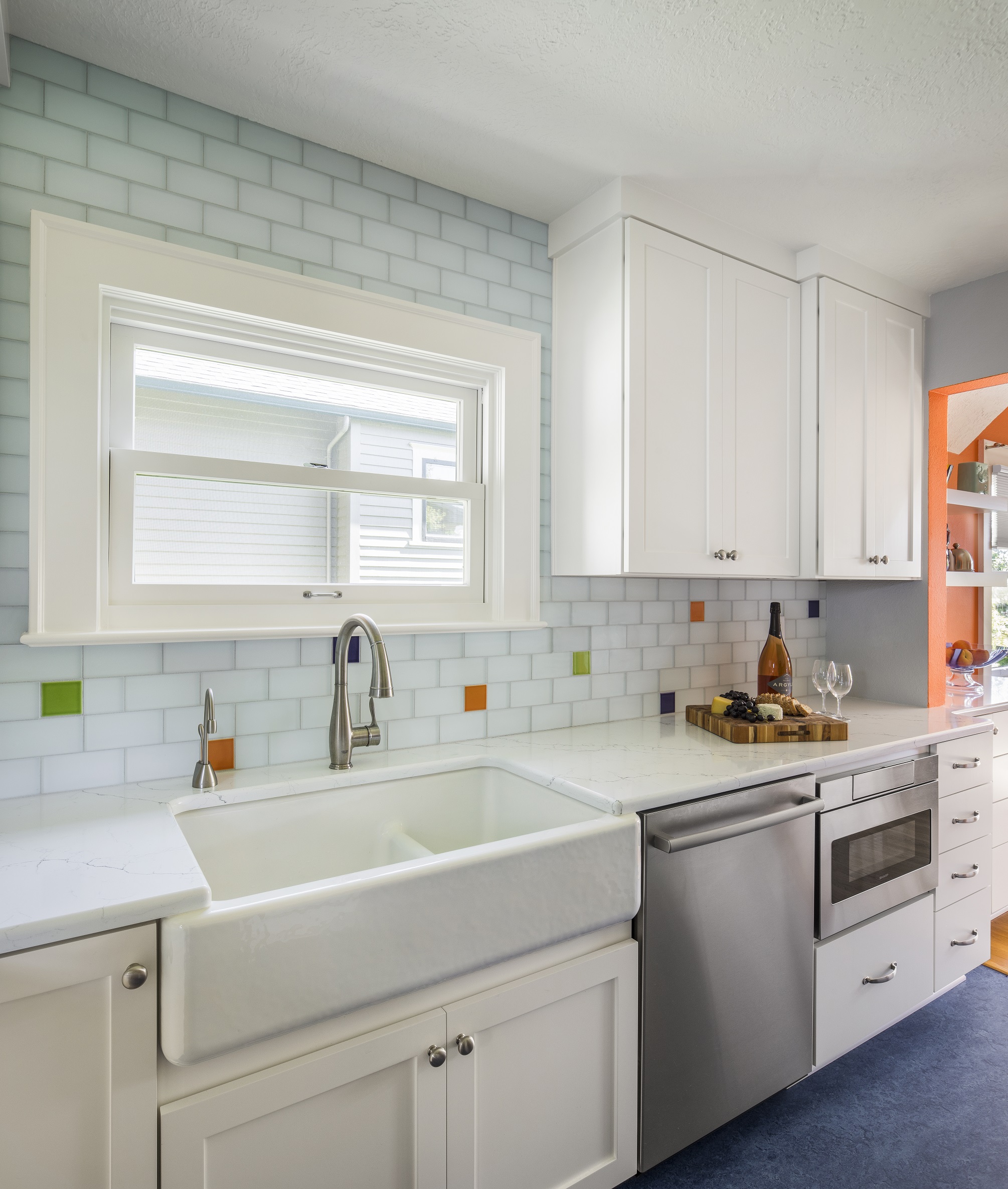 Dysfunctional Kitchen Updated With Clever Design
The original kitchen in this 1930's era home had received minor updates over the years. But the floor plan was still awkward and inefficient. The homeowner did her best to create more storage by using baskets tucked in corners and bags hung on the walls. Unfortunately, no matter what systems she employed, her frustration level was high. Trying to prep food for entertaining was always a challenge. What she really needed was a kitchen that could accommodate her desired lifestyle of gracious hospitality.
When a kitchen is cramped like this one was, it is easy to think that building an addition is the only option. However, without adding a square inch of space, C&R designers created solutions to make this kitchen efficient, beautiful, and a joy to use.
A smart cabinet layout provides more than enough storage for an ambitious cook. Eco-friendly components complement everyone's desire to tread lightly on the environment. And at the owner's request,  a period-honoring color palette brightens Oregon's consistently gray winter days.
Before and After:
The Plan
The Designers began by creating a floor plan that made efficient use of existing space—including relocating the exterior door opening from an awkward back corner to the center of the exterior wall. This made a workflow-friendly layout possible. At every opportunity, drawers were specified because drawers are so much more efficient than doors and slide-outs. The existing vent ducting that ran from above the range, along the ceiling, and out the back of the house is now hidden behind a spacious pantry beside and above the refrigerator. Double Lazy Susans make good use of the two corners. A glass-door cabinet houses colorful items that can be enjoyed and yet protected from full exposure.
Making It Happen
C&R craftsmen gutted the whole space, wired new electrical and put up new sheetrock. They installed a new gas range flanked by white cabinets and Quartz countertops, a new hood, upper cabinets and a special-order Bio-fresh refrigerator. On the opposite side, they built in more cabinets (which include an astonishing amount of accessible storage), Quartz countertops, and a tall apron sink. The homeowner reports that the short divider in the sink is perfect for multiple uses–whether she needs two basins or when she needs just one large one.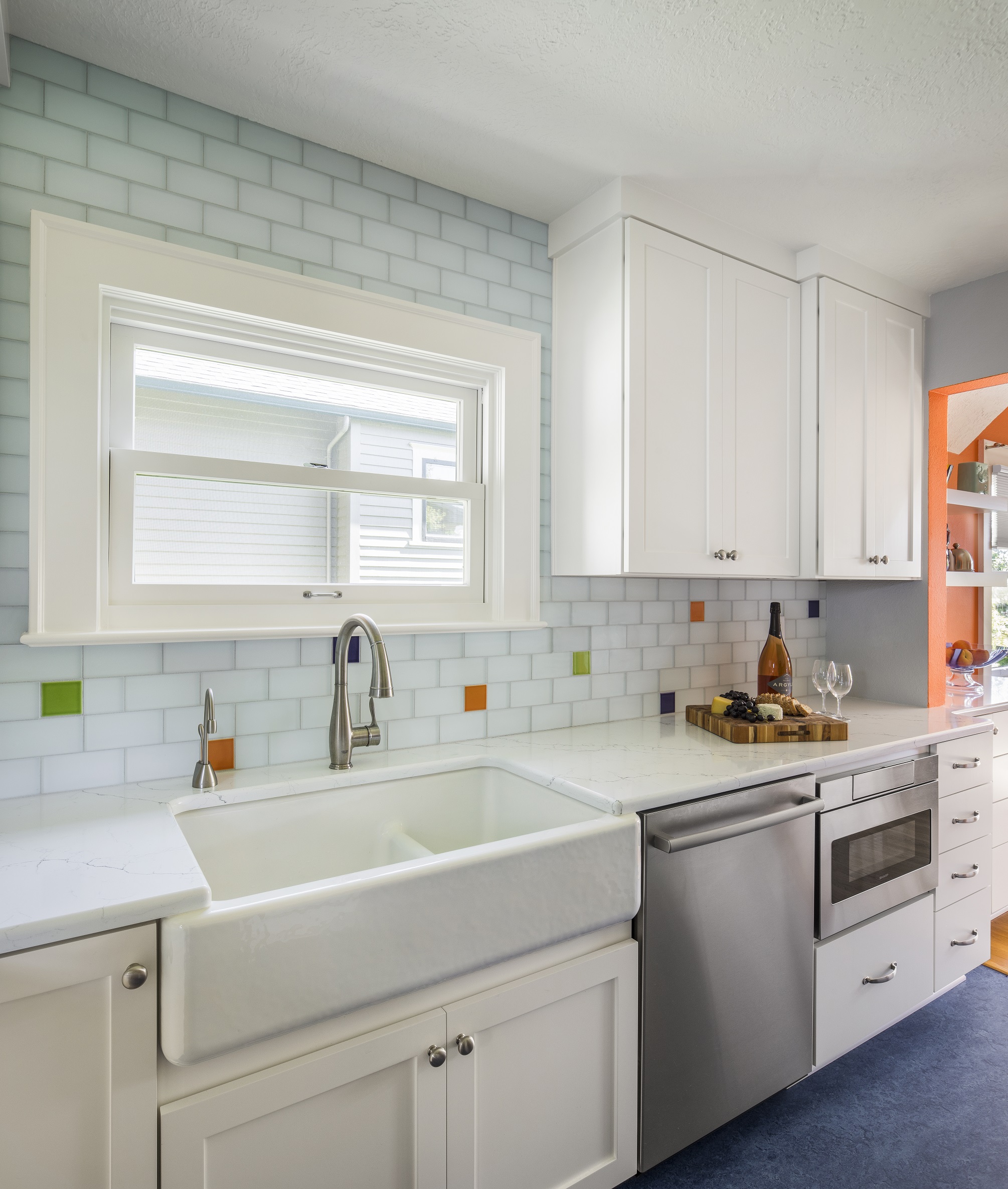 The Illusion of More Space
Our design plan included relocation of the refrigerator away from the wall separating kitchen and dining rooms. We enlarged the opening between the two spaces creating a gracious transition area. This transition area is perfect for the new floating shelves and a buffet cabinet with wine rack. A polished quartz countertop atop the buffet flows seamlessly to the adjacent kitchen cabinets, enhancing the relationship between the two spaces. By opening the wall just a bit more between the two rooms, guests can now be a part of the prep, cooking, and cleanup or they can enjoy watching and visiting from the dining table. The buffet and floating shelves are the perfect place to serve food and display artwork.
Historical Details Included
Complimenting the kitchen's updated convenience are details that pay homage to the home's history.  To match the original 1935-era windows, a new historically correct double-hung window is surrounded by frosted white subway tile and decorative tiles in period colors of orange, eggplant, and blue. A traditional hexagon tile mosaic is the eye-catching focal point above the range. Flooring is a period Marmoleum—the modern, eco-friendly version of traditional linoleum. Other details relating to the home's history include crystal doorknobs on French doors leading to the basement.
When you visit this home, all the details make sense as a whole. This is exactly what design should accomplish!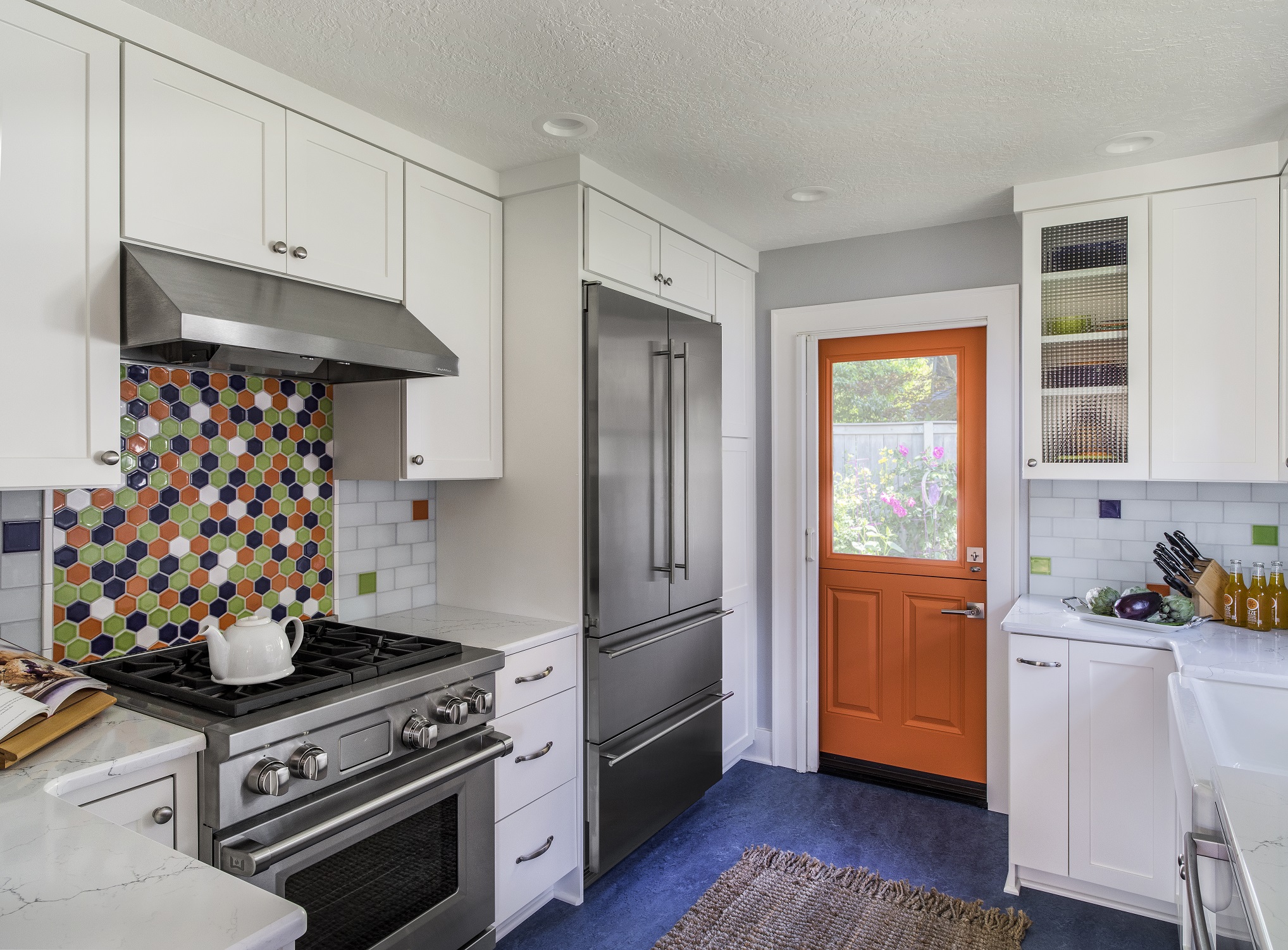 THE Back Door
And the old back door? It was replaced with a bright, beautiful Dutch door that opens out to a patio of custom pavers and beautiful landscaping. It offers the option of opening the top half to enjoy the fresh air (and keep the cat confined!) or open completely to access the back yard. A retractable screen door tucks discretely to the left for those times when the Dutch Door is either partially or fully open.
Details
Design service including plans and permits
Complete demo of kitchen
Frame new wider opening between kitchen and dining room
Relocate back door to center of exterior wall
New Dutch Door to back yard and new landing
New electrical plan including recessed and under-cabinet lighting
New cabinetry throughout
New Pental Quartz Avenza countertops
New backsplash in white frosted and deco tiles
Custom backsplash mosaic behind range
New paint throughout
New Marmoleum flooring
New French Doors to basement
New dual fuel range
New Bio-fresh vegetarian-friendly refrigerator
"I love the way it's so easy to prepare and then entertain and clean up in my new kitchen!"  –Homeowner
We remodeled another very small kitchen that turned out beautifully as well. Check it out here.
Are you ready to update your own small kitchen in a meaningful way? Our designers will help you find the perfect design that makes the most of the space you have. Contact C&R today to schedule your free in-home consultation! Are you curious what happens after the first consultation? Click here to see how our process works. Our goal is to make your design, selections, and remodeling as easy as it can possibly be.
If you would like to learn more about kitchen and bathroom remodeling before you schedule an appointment, try one of our free Kitchen and Bath Workshops. Here's our upcoming Remodeling Workshop schedule.
Professional photos by David Papazian Photography
Share this entry
Schedule a Free Consultation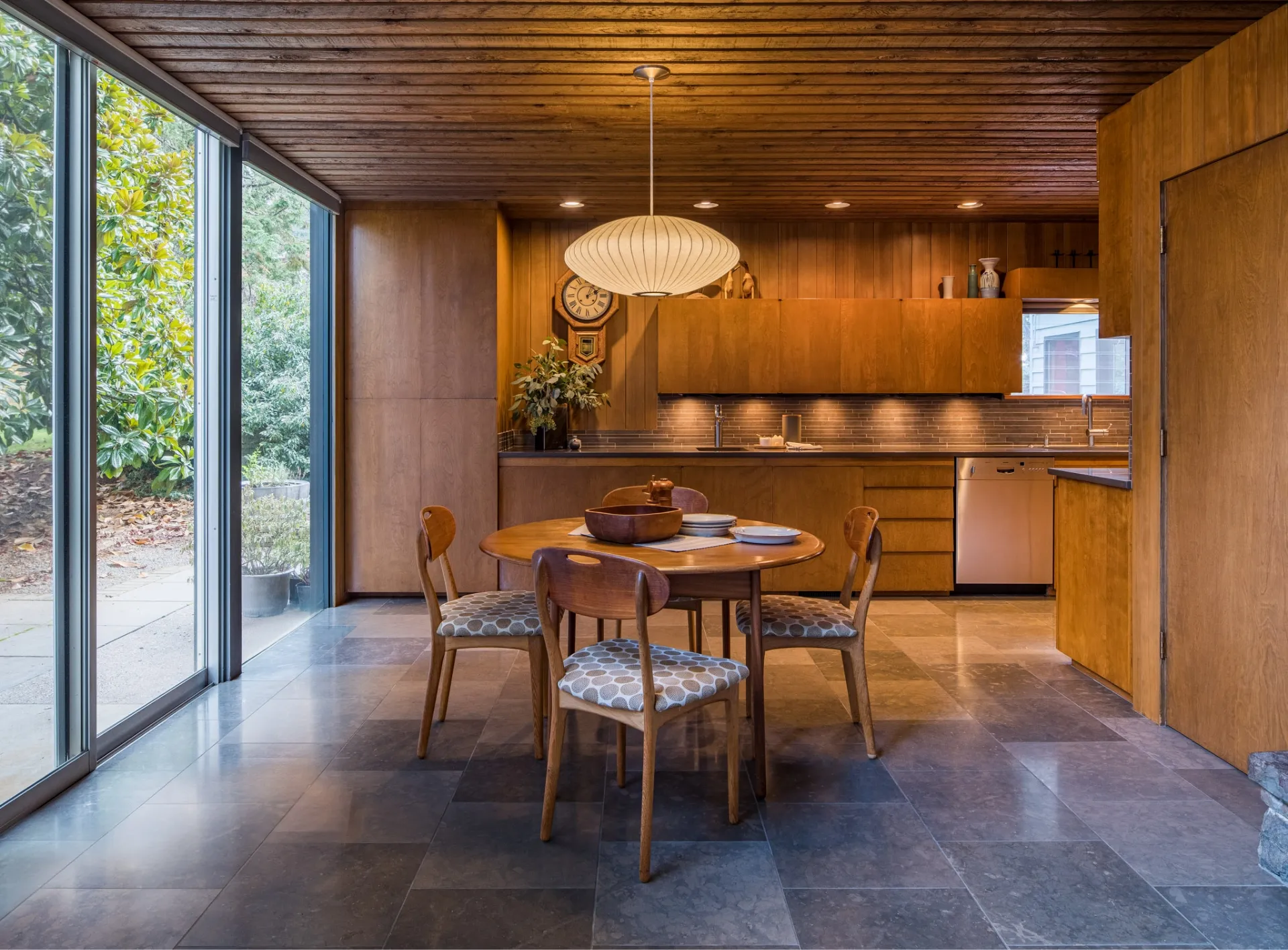 From the initial meeting with Beth to the closeout visit, working with C&R was a pleasure. Beth listened, offered advice, and was willing to work within our budget. Every worker who came to our home was punctual, courteous, and cleaned up each day. We truly could not have asked for a better experience!
Nancy B
Staff were so skilled, knowledgeable, and professional. The design team was so easy to work with and immediately saw our vision. The result is so beautiful! We highly recommend this company, you will never be disappointed.
Dick and Joi Hayden
Excellent service and workmanship. We could not be happier with our kitchen remodel. Beth helped design the perfect kitchen and our Lead Carpenter completed the work in a timely and professional manner. Everyone we came in contact with at C&R was great—we are already working with them on a second project!
Roslyn Owen
C & R did a kitchen remodel for us November-December 2021. From start to finish, they provided EXCELLENT service. Beth guided us expertly through making decisions on products and design. Mark led their team of professionals to expertly …
Christy Austin
We just completed a remodel of a 1980 sunroom to utility room, as well as expanding the downstairs bedroom, bath, half bath and closet and are thrilled with the result. It was a pleasure to work with C & R. We were so impressed with the …
Janet Lorenz
Schedule a Free Consultation
Read More Or Submit Your Review
Sign Up to Receive the C&R Monthly Email Newsletter