Serving Salem and
the Willamette Valley Since 1961
Bathroom Remodeling: To Tub or Not to Tub?
Jo Koenig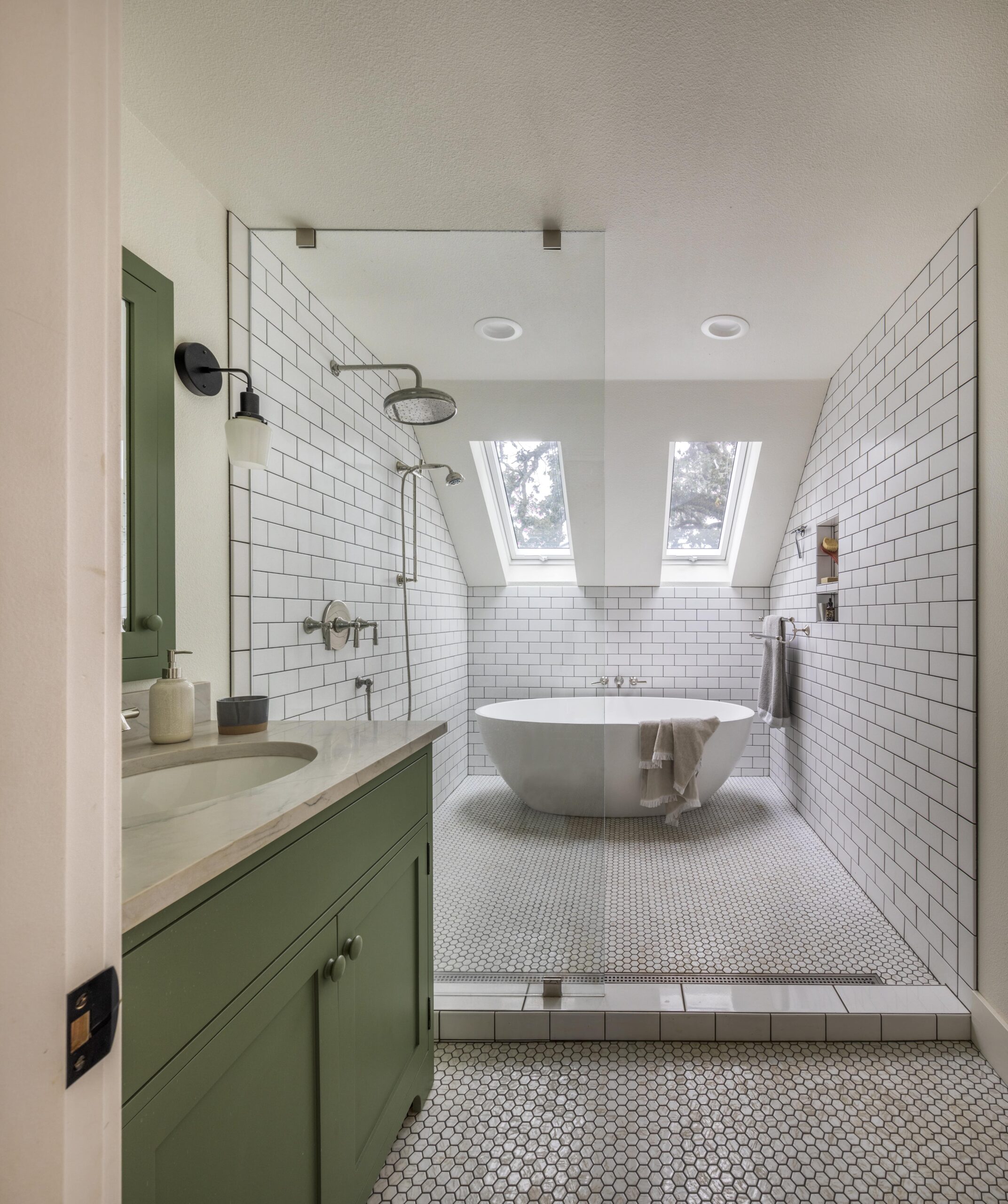 "Do We Really Need to Keep the Tub?"
Homeowners puzzle over whether they need a tub or if they can have what they really want–a drop dead awesome tile shower. In the past, the advice was to make sure there was at least one tub somewhere in the house–for resale value. But times have changed and now  designers tell people to make their home fit their own lifestyle. If you love having a tub, whether it's a tub/shower combination for a stand-alone Jacuzzi, the choice is yours. You have our professional permission.
Too many times, a homeowner will remodel with the future buyer in mind only to have the next owner tear it out and do something completely different. The best advice is to decide what is best for you, and follow your heart.
If you are still wondering which way to go, here are some examples showing how some of our clients resolved their dilemma.
New No-Curb Shower Replaces Tub-Shower Combo
These homeowners rarely used this bathroom because of how inconvenient it was to crawl into the tub. They needed a second bathroom that provided accessibility to make use of their existing space. Of course, they wanted it to be beautiful as well with updates that related to the rest of their home. We removed the fiberglass tub/shower and created a new no-curb shower along with beautiful vanity and detailing.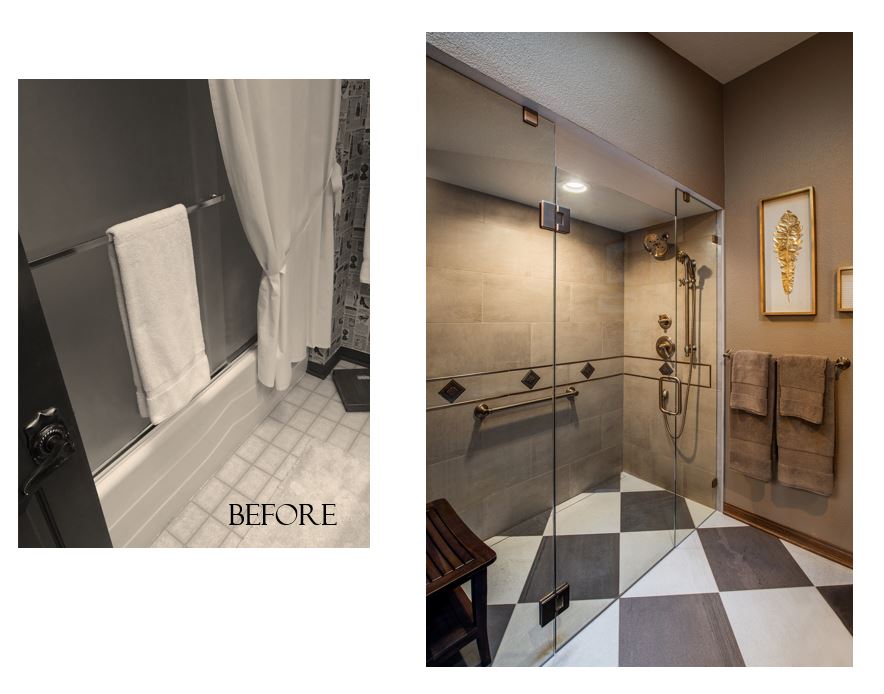 Everyone Appreciates a Curb-free Shower
Years ago, it seemed the only people who would want a curb-free showers were those who needed a 'handicapped' bathroom. However, that perception has changed. Homeowners now understand how convenient and easy it is to use and clean this type of shower. You don't have to be a senior to appreciate the beauty and accessibility of a walk-in shower.
Design Options
A custom tile shower can be luxurious and spacious, complete with a clear glass enclosure, niche, rainfall shower head and handheld wands. Custom tile showers offer endless design possibilities with every style of tile imaginable. Some clients add benches, either built in or free standing. You can also incorporate stylish grab bars during remodeling or add them later. (Just be sure to request appropriate backing during construction.)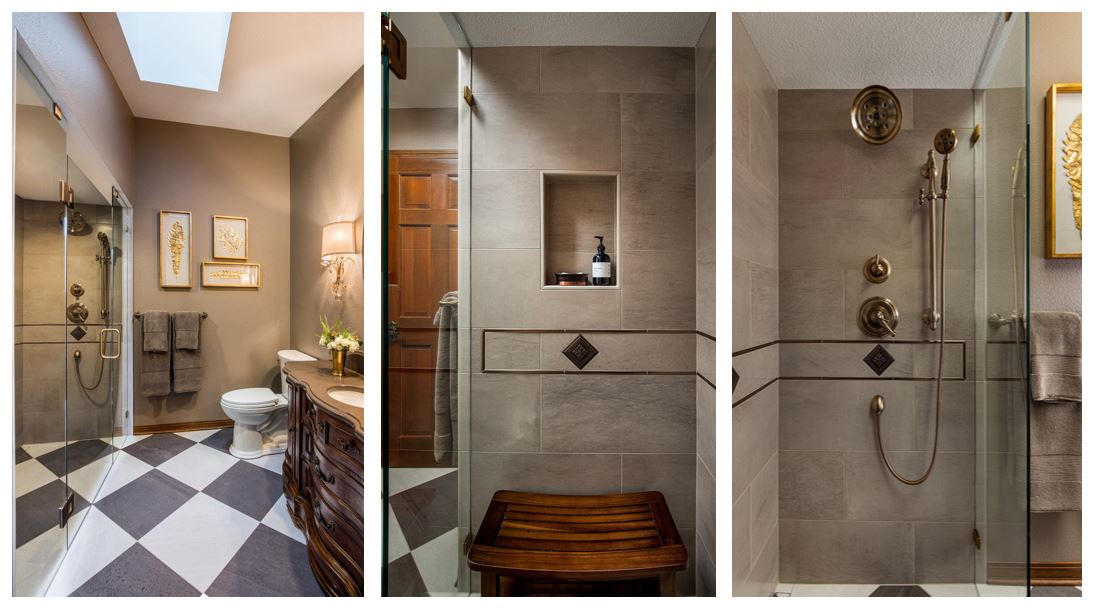 When the Jacuzzi Goes Unused
These homeowners never (ever) used their Jacuzzi tub, and it had become a place to toss towels and clothes. That was particularly unfortunate because it took up a good portion of bathroom real estate. Following the highest and best use principal, we created a design that included removing the Jacuzzi and building a barrier-free walk-in shower in its place. We also replaced the existing window with a new, smaller window in the shower that still provides plenty of natural light.

Design Advantages
The advantage of removing the massive tub extended beyond the walk-in shower. They also gained enough space to add a beautiful new dressing table with a Quartz countertop. Even though the footprint is the same, the entire bathroom now feels more spacious and functions so much better.
But Sometimes You Just Want a Good Soak
Not everyone can live without their bathtub, though. Some people really, really love the relaxation a good long soak can bring. Like we always say, it's your house and it should fit you just right. Here are some examples of how we've incorporated tubs into the grand schedule of home design.
A Combination Solution for the Whole Family
If you have the space and you really love having both a tub AND shower, design options abound. You can choose from zero-barrier, low-barrier, or standard step-in showers. To customize the shower even further, clients have selected rain heads, hand held wands, steam showers, and multi-directional jets. One or more storage niches and clear glass surrounds provide convenience and a touch of class. This project received the national Chrysalis award for design and remodeling.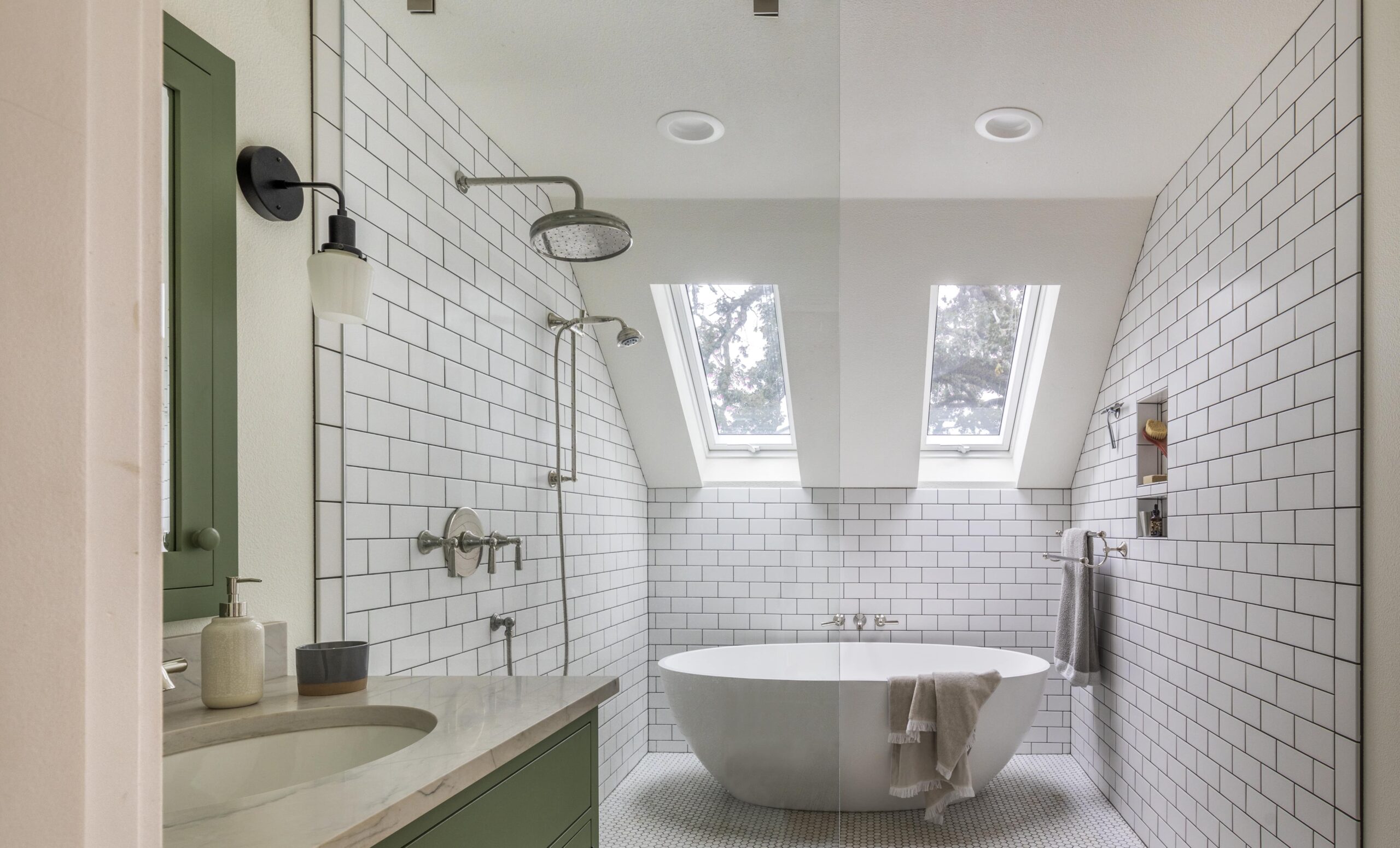 Tile shower and Soaking Tub
This is a master bathroom designed and remodeled to provide parents of very active children their own private relaxation zone. Read more about this whole-house project.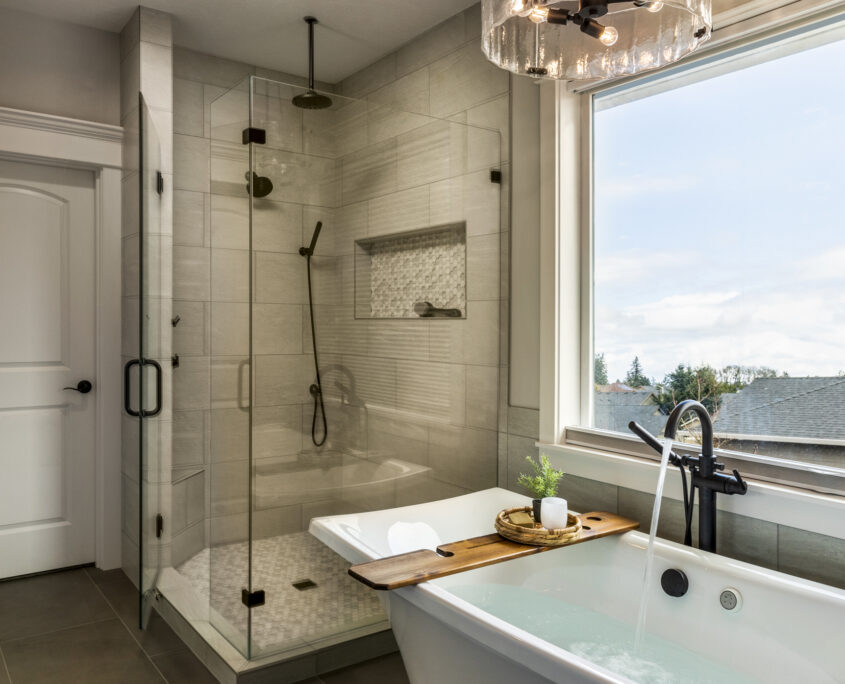 A Space-Saving Option: The Tub/Shower Combination
If you only have the space for either a tub or a shower, there is a solution. A right-sized tub with a custom tile surround is not only functional, but adds elegance to even a small bathroom.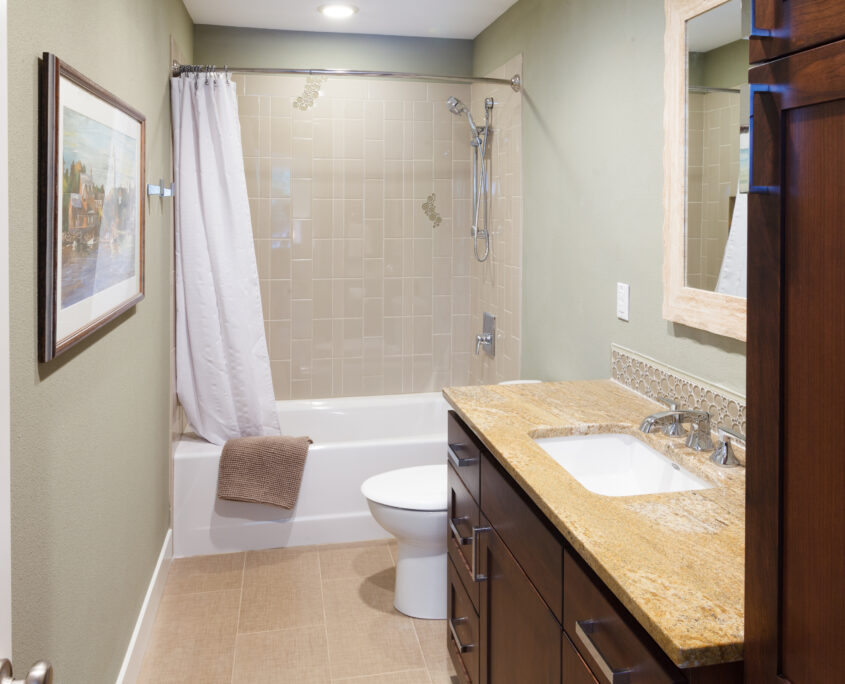 It's All Up To You
The good news is that you have so many choices when it comes to bathroom design. You can remove the tub if you like and create the bathroom that best suits your needs. Or you can upgrade your bathroom with a new tub and tile surround. You can also arrange your existing space to accommodate both a tub and custom shower. The bad news is that it can be hard to decide exactly what to choose. We can help with that! Our Designers are experts at helping you determine the best layout, design, colors, tile selections, and fixtures.
How May We Help You?
Are you ready to make some upgrades to your bathroom, kitchen, or other areas of your home?
Allow C&R to help you reach your design, remodeling, and décor goals. We provide the best in space planning, interior design, remodeling, window coverings, and decorative pieces. Visit our Design Studio to see the latest collection of cabinetry, hardware, countertops, and more.
Call or email today to schedule your free in-home consultation!  503-363-1343
Share this entry
Schedule a Free Consultation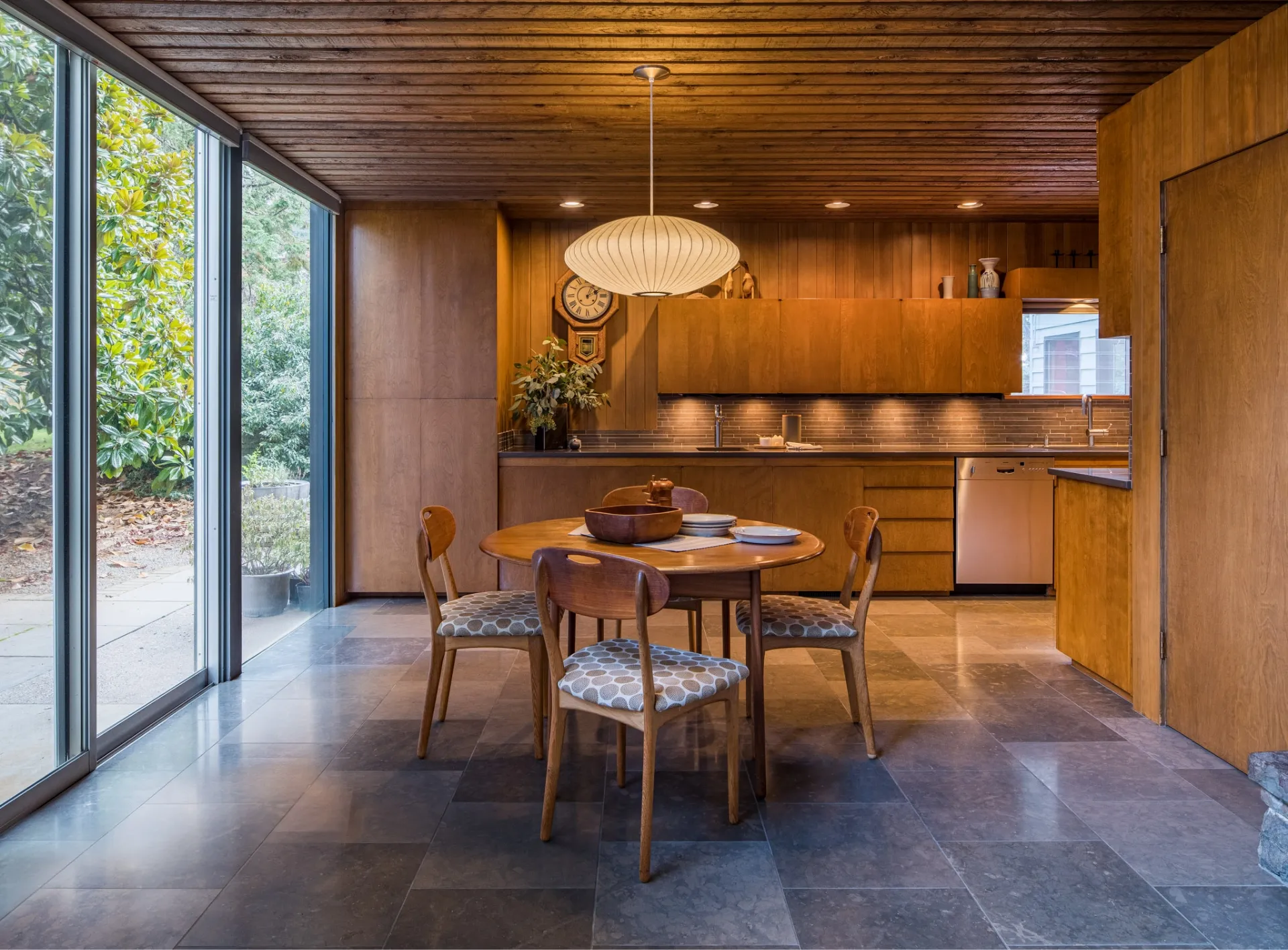 From the initial meeting with Beth to the closeout visit, working with C&R was a pleasure. Beth listened, offered advice, and was willing to work within our budget. Every worker who came to our home was punctual, courteous, and cleaned up each day. We truly could not have asked for a better experience!
Nancy B
Staff were so skilled, knowledgeable, and professional. The design team was so easy to work with and immediately saw our vision. The result is so beautiful! We highly recommend this company, you will never be disappointed.
Dick and Joi Hayden
Excellent service and workmanship. We could not be happier with our kitchen remodel. Beth helped design the perfect kitchen and our Lead Carpenter completed the work in a timely and professional manner. Everyone we came in contact with at C&R was great—we are already working with them on a second project!
Roslyn Owen
C & R did a kitchen remodel for us November-December 2021. From start to finish, they provided EXCELLENT service. Beth guided us expertly through making decisions on products and design. Mark led their team of professionals to expertly …
Christy Austin
We just completed a remodel of a 1980 sunroom to utility room, as well as expanding the downstairs bedroom, bath, half bath and closet and are thrilled with the result. It was a pleasure to work with C & R. We were so impressed with the …
Janet Lorenz
Schedule a Free Consultation
Read More Or Submit Your Review
Sign Up to Receive the C&R Monthly Email Newsletter