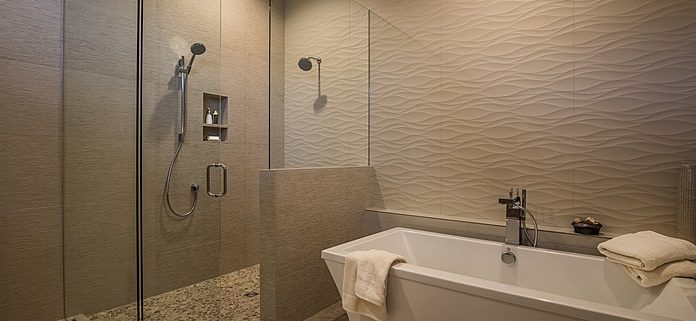 "Do We Really Have to Keep the Tub?"
Homeowners puzzle over whether they need a tub or if they can have what they really want–a drop dead awesome tile shower. In the past, the advice was to make sure there was at least one tub somewhere in the house–for resale value. But times have changed and now  designers tell people to make their home fit their own lifestyle. If you love having a tub, whether it's a tub/shower combination for a stand-alone Jacuzzi, the choice is yours. You have our professional permission.
Too many times, a homeowner will remodel with the future buyer in mind only to have the next owner tear it out and do something completely different. The best advice is to decide what is best for you, and follow your heart.
If you are still wondering which way to go, here are some examples showing how some of our clients resolved their dilemma.
Homeowners Opt for Spa Shower over Spa Tub
It all started with an unwelcome surprise for these homeowners: stray Lego down the shower drain. Without any other reasonable way to access second-story plumbing, the fiberglass shower had to be removed to make repairs. At that point, the owners figured they might as well take advantage of the opportunity to update their bathroom. The question became whether to simply replace the existing unit with a similar-sized tile shower, or remove the seldom-used spa tub and use that space for the shower of their dreams. The choice became obvious to them and we reconfigured their bathroom to include not only a spacious new shower, but an in-bathroom dressing area with bench in the space formerly occupied by the fiberglass unit.
Design Challenges
By angling the shower just right, the existing window did not need to be abandoned and now continues to provide natural light and a pleasant view. The custom tile shower is luxurious and spacious, complete with a clear glass enclosure, niche, rainfall shower head and handheld wands. We also made doubly sure the new shower drain would block any future Lego intruders!
What About The Old Shower Space?
On the other side of the room where the fiberglass shower once occupied a 3'x6' space, we created an elegant dressing area with bench and clothes hooks for comfort and convenience.  A walk-in closet adjacent to the dressing area is conveniently located, and the door keeps the possible clutter confined to that area. The open space of the dressing area adds a sense of elegance to the entire bathroom.
When the Jacuzzi Becomes a Storage Space
These homeowners never (ever) used their Jacuzzi tub, and it had become a place to toss towels and clothes. That was particularly unfortunate because it took up a good portion of bathroom real estate. Following the highest and best use principal, we created a design that included removing the Jacuzzi and building a barrier-free walk-in shower in its place. We also replaced the existing window with a new, smaller window in the shower that still provides plenty of natural light.

Design Advantages
The advantage of removing the massive tub extended beyond the walk-in shower. They also gained enough space to add a beautiful new vanity with granite counter tops and double under-mount sinks. Even though the footprint is the same, the entire bathroom now feels more spacious and functions so much better.
Another advantage to making the change became apparent much later after the remodel was completed. The homeowner had a freak accident and broke her ankle. The barrier-free walk-in, roll-in shower was, in her words, "a life saver".
But Sometimes You Just Want a Good Soak
Not everyone can live without their bathtub, though. Some people really, really love the relaxation a good long soak can bring. Like we always say, it's your house and it should fit you just right. Here are some examples of how we've incorporated tubs into the grand schedule of home design.
Tub/Shower Combinations
One solution for bathrooms that don't have enough space for both a tub and a stand-alone shower is a combination unit. This bathroom features a tub with hand-held shower and shower curtain. A bench/shelf at one end not only provides convenience in bathing, but creates a bit more floor space in the bathroom. Full height tile surround upgrades the tub area and frames the high window.
Speaking of Kids and Pets. . .
If you have young children or pets, the tub will be an essential part of everyday life. In that case, there is no reason the one tub in the house can't be beautiful as well. Adding a custom tile surround to the right-sized tub can add elegance to any bathroom.
Sometimes It's Possible to Have It All
If you have the space and you really love having both a tub AND shower, design options abound. You can choose from zero-barrier, low-barrier, or standard step-in showers. To customize the shower even further, clients have selected rain heads, hand held wands, steam showers, and multi-directional jets. One or more storage niches and clear glass surrounds provide convenience and a touch of class.
It's All Up To You
The good news is that you have so many choices when it comes to bathroom design. You can remove the tub if you like and create the bathroom that best suits your needs. Or you can upgrade your bathroom with a new tub and tile surround. You can also arrange your existing space to accommodate both a tub and custom shower. The bad news is that it can be hard to decide exactly what to choose. We can help with that! Our Designers are experts at helping you determine the best layout, design, colors, tile selections, and fixtures.
How May We Help You?
Are you ready to make some upgrades to your bathroom, kitchen, or other areas of your home?
Allow C&R to help you reach your design, remodeling, and decor goals. We provide the best in space planning, interior design, remodeling, window coverings, and decorative pieces. Visit our Design Studio to see the most unique furniture and decor available in Salem.
Call or email today to schedule your own free in-home consultation!  503-363-1343
https://crdesignremodel.com/wp-content/uploads/2018/12/thumbnail-15.jpg
515
696
Jo Koenig
https://staging.crdesignremodel.com/wp-content/uploads/2020/05/c-rlogo.png
Jo Koenig
2020-10-20 09:59:19
2021-04-29 11:17:08
Bathroom Remodeling: To Tub or Not to Tub?