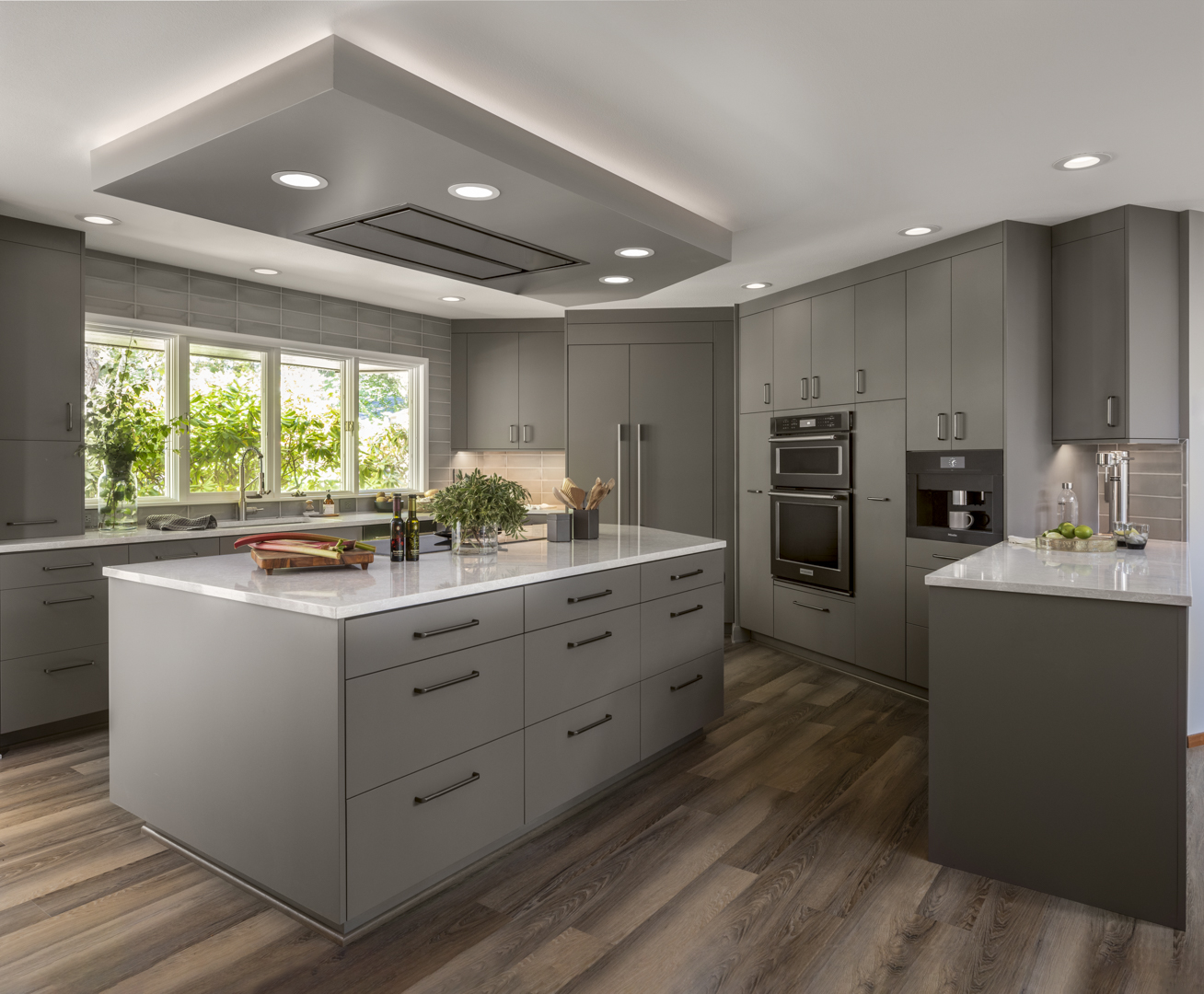 Serving Salem and
the Willamette Valley Since 1961
Reawakening a Mid-Century Kitchen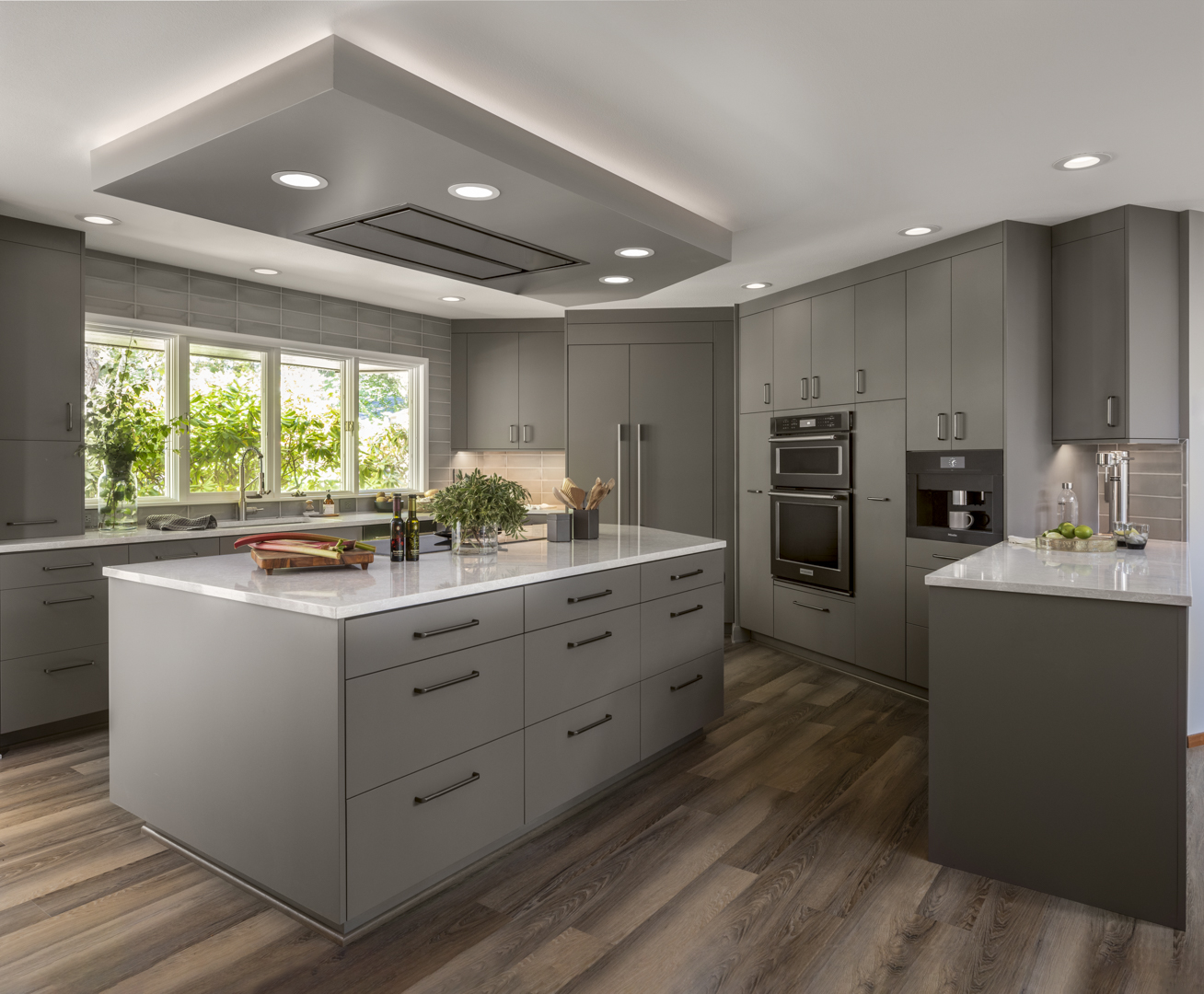 Reawakening a Mid-Century Kitchen
Rick and Linda Main purchased this Mid-Century Modern house even though the kitchen had been "updated" with unfortunate results. They called on C&R to bring their home back to its former glory while adding modern conveniences and amenities. They especially wanted to include easy-care materials and technological upgrades.
Our challenge:
Even though the kitchen had been desecrated, the rest of the original house survived intact. Our goal was to bring the kitchen to the original level of style and craftsmanship. To do that, we gave a great deal of thought to our materials, our design, and our attention to detail.
One of the unique aspects of the house was an abundance of 60-degree corners. This presented a design challenge because we wanted to make use of every inch for maximum storage and work areas without creating dead spaces behind the cabinets.
But primarily, we wanted everything we touched to honor the amazing architectural interest inherent in the house.
Our plan:
We enlarged the kitchen area physically and visually by eliminating an adjacent hallway and wet bar. This provided enough room for a full u-shape perimeter and a large new island. It also allowed for a better flow between the kitchen and living area. We carefully considered the 60-degree wall angles when configuring the new cabinets to provide abundant storage and workspace without creating excessive "dead space".
We removed the acoustic tile ceiling and constructed a 'dropped ceiling' the same size as the island. The dropped ceiling is suspended by cables and has LED accent lighting to enhance the floating look. A ceiling flush-mount range hood exhausts cooking heat and odors without being visually obtrusive. The hood fan and light are operated with a remote control.
Access to the dining room was originally through a pocket door. There was also a pocket door into hallway. By opening things up and eliminating the hallway, we were able to create a gallery wall with wood shelving. LED lights illuminate artwork in niches and on the wall. We rebuilt the entire section with trim work that blends with the living room and nook area. We are delighted to say that it all looks like it was original to the home.
For convenience of entertaining, we also added a dry bar between the nook sitting area and dining room.
As a finishing touch, we updated the fireplace floating hearth with new porcelain tile, leaving the existing natural stone just as it was.
Project Details:
Kitchen cabinets: DeWils 'Fenix'. These cabinets have an easy to clean pressurized finish. If a dent occurs, you can use a household iron to take it out. For marks on the cabinets—simply use a magic eraser!
Bar area cabinets: DeWils Alder
Countertops: Cambria "Big Sur Mist"
Backsplash: Ceramic tile
Abundant LED recessed lights throughout
Client comments:
​"Fit and finish was superb, definitely at a higher level than 'standards in the industry'. You can't even get a full sense of how amazing it is without actually seeing it in person. C&R has people who are geniuses at solving problems and all the subcontractors follow C&R's standards and work ethic. We enjoyed everyone who worked on the project. Everything is stunning—thanks, you all are amazing!"
Schedule a Free Consultation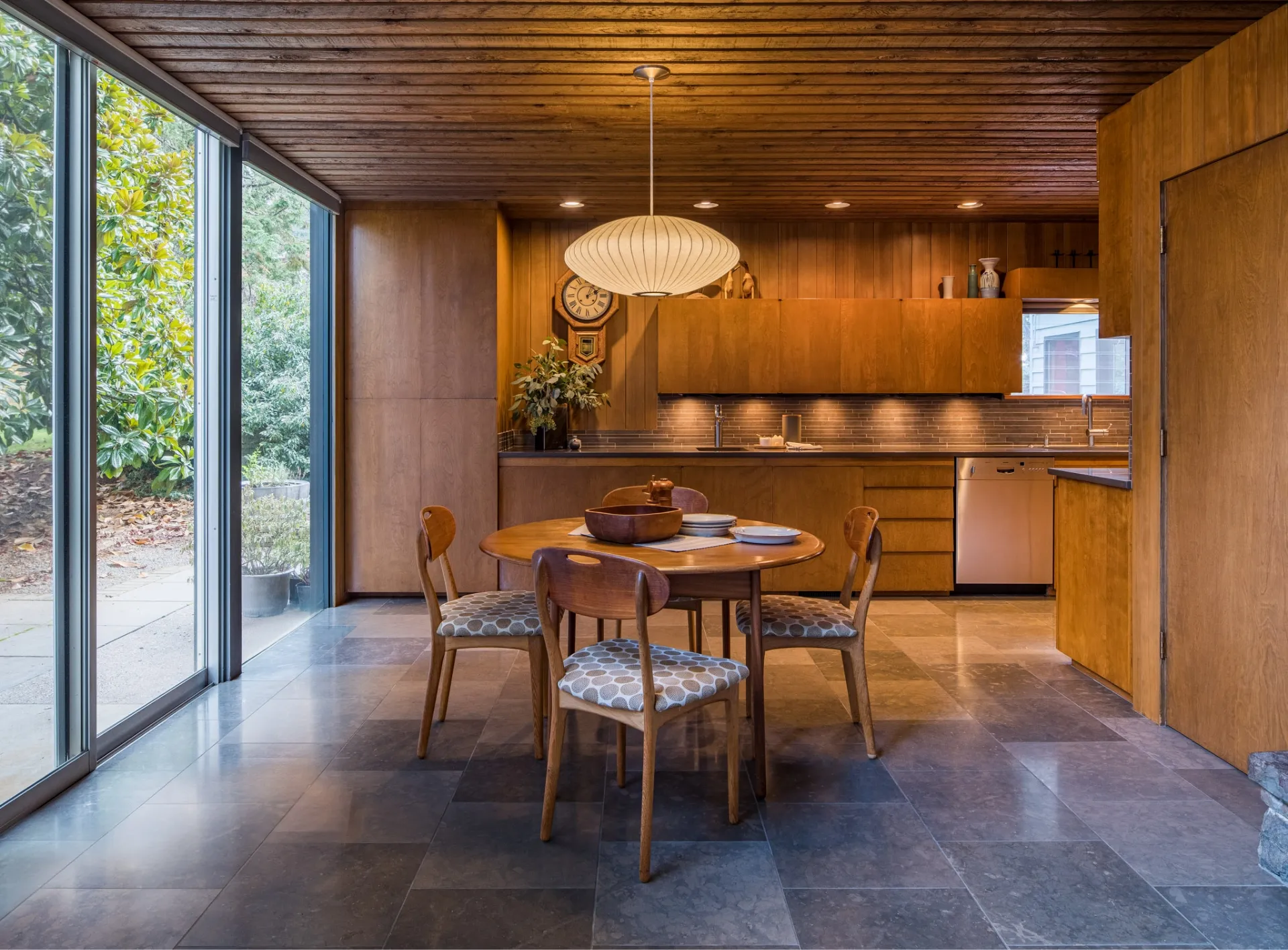 From the initial meeting with Beth to the closeout visit, working with C&R was a pleasure. Beth listened, offered advice, and was willing to work within our budget. Every worker who came to our home was punctual, courteous, and cleaned up each day. We truly could not have asked for a better experience!
Nancy B
Staff were so skilled, knowledgeable, and professional. The design team was so easy to work with and immediately saw our vision. The result is so beautiful! We highly recommend this company, you will never be disappointed.
Dick and Joi Hayden
Excellent service and workmanship. We could not be happier with our kitchen remodel. Beth helped design the perfect kitchen and our Lead Carpenter completed the work in a timely and professional manner. Everyone we came in contact with at C&R was great—we are already working with them on a second project!
Roslyn Owen
C & R did a kitchen remodel for us November-December 2021. From start to finish, they provided EXCELLENT service. Beth guided us expertly through making decisions on products and design. Mark led their team of professionals to expertly …
Christy Austin
We just completed a remodel of a 1980 sunroom to utility room, as well as expanding the downstairs bedroom, bath, half bath and closet and are thrilled with the result. It was a pleasure to work with C & R. We were so impressed with the …
Janet Lorenz
Schedule a Free Consultation
Read More Or Submit Your Review
Sign Up to Receive the C&R Monthly Email Newsletter