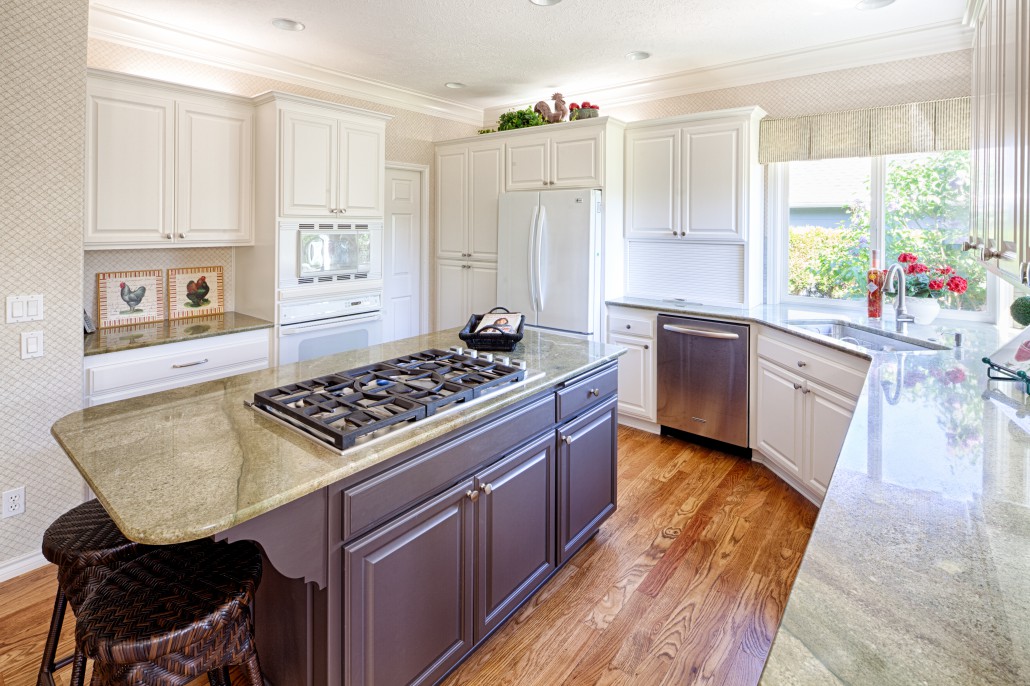 Serving Salem and
the Willamette Valley Since 1961
Kitchen Makeover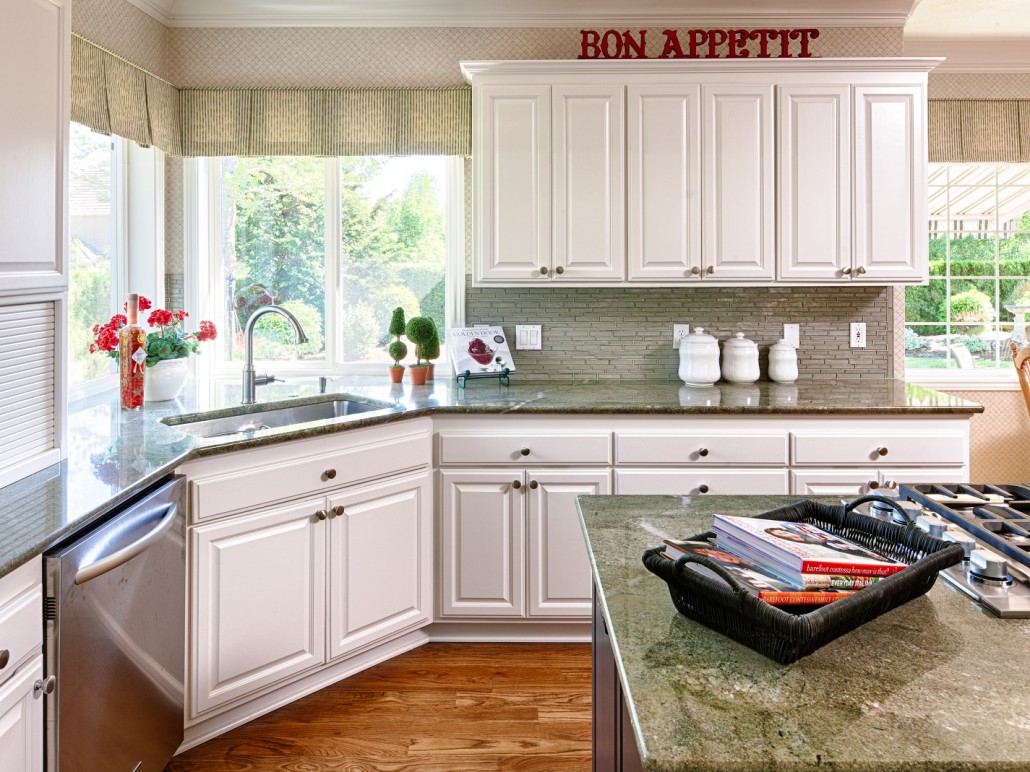 Is it possible to successfully update a kitchen and great room without going through a full major remodel? For this classic Salem home, it definitely worked. Take a look at the breathtaking results and learn how it was done.
The before photo below shows a well maintained but dated kitchen. The maple wood cabinets & flooring had yellowed with age and the tile countertops definitely related to a past era.
What were the remodeling options?
Homeowners have a variety of options when it comes to remodeling. In this case, the homeowner considered a couple of scenarios. The first was a "Pull and Replace" remodel involving gutting the kitchen and making it new from the wall framing inward. The second was a "Cosmetic" remodel.
What is a Cosmetic remodel?
A Cosmetic remodel focuses solely on the look of a room rather than how it functions. With a Cosmetic remodel, we keep the existing layout and cabinetry. Changes are made to the countertops, colors, hardware, and fixtures. A Cosmetic remodel can provide a dramatic update for a budget-friendly price.
Will a Cosmetic remodel work for every kitchen?
Only certain kitchens are good candidates for Cosmetic remodeling. It might not work if the cabinets are not structurally sound, or if the cabinet wood doesn't lend itself to re-painting. It is also true that there are few kitchens that wouldn't benefit from a reorganization of space and upgraded cabinet amenities.
However, in this case it made perfect sense. The layout still worked well and the cabinets were in excellent condition. The homeowner's goal of a visual update fit perfectly within the scope of a Cosmetic remodel.
Pre-Planning is key to a successful Cosmetic remodel.
With this type of remodeling, it is particularly important to pre-plan every detail. At C&R, we follow these proven steps:
Careful collaboration with homeowners to determine highest goals and ways to meet those goals within desired budget parameters.
Professional design assistance to choose pleasing and coordinating materials and colors.
Pre-Construction walk-through with C&R Consultant, Designer, and Project Craftsman to make sure everyone is on the same page.
Pre-Coordination of all suppliers and sub-contractors scheduling.
All of this takes place before we begin the on site work. It is a major key to successful remodeling.
What changes were made to this kitchen?
The Cosmetic remodel for this particular kitchen involved floors, countertops, painting of cabinets, new cabinet hardware, tile backsplash, plumbing fixtures, and a new cook top.
We enlarged the island counter overhang just slightly to provide a more comfortable seating area. Decorative corbels integrated the new granite countertop with the island base.
We painted the perimeter kitchen cabinets in a warm white and the island in a soft charcoal color. Our professional interior designer hand-picked the granite countertops. She specifically chose slabs with beautiful dark veining to relate to the charcoal accent color. She also provided a stunning translucent glass tile backsplash design that further enhanced the serene palette.
The new granite countertops thoroughly upgraded the kitchen and will be much easier to maintain. New door and drawer pulls coordinate with the new stainless gas cooktop, faucet, and under mount sink.
We removed the existing carpet in the great room and entry. The Maple wood flooring in the kitchen was also removed. We installed new Oak flooring and finished it in a warm rich tone. The stunning floor now flows uninterrupted from the kitchen through the great room and out to the front door entry.
According to Linda Stewart, C&R's designer for this project, "We wanted to create a cohesive design not only within the kitchen area, but one that would relate to the entire space." Visitor's comments have been extremely positive. Many ask if the window coverings and furnishings are new. They are actually the originals, but the color palette and materials have brought new life to everything in the space.
This new kitchen exudes new life!
The updated version of this classic kitchen shows how a home with good "bones" can be transformed into something clean, fresh, and thoroughly inviting. This carefully planned and executed Cosmetic remodel delivered as promised—a home completely infused with new life.
Is it time to bring some life to your own home? Call us today at 503-363-1343 to schedule a free in-home visit!
Schedule a Free Consultation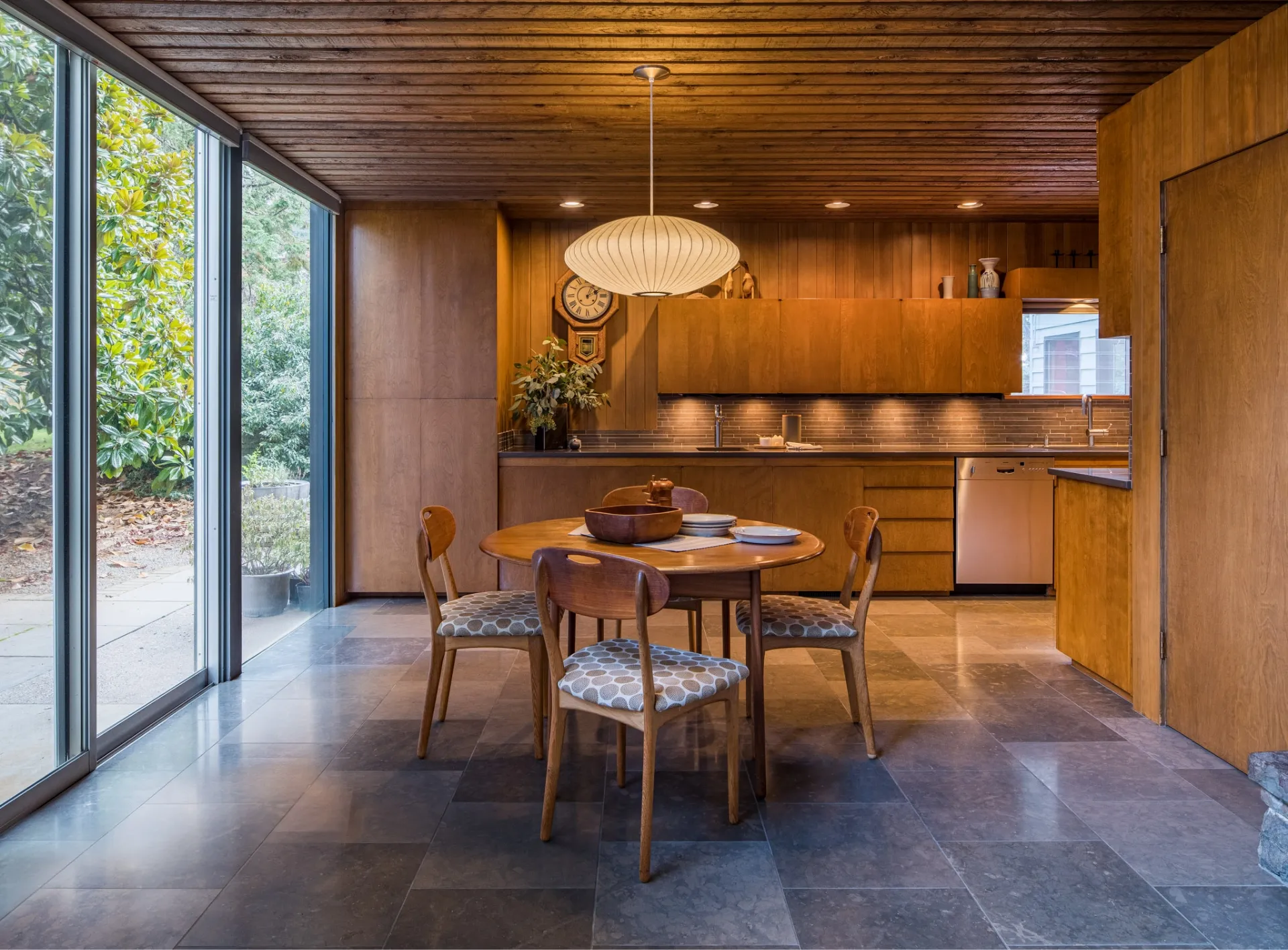 From the initial meeting with Beth to the closeout visit, working with C&R was a pleasure. Beth listened, offered advice, and was willing to work within our budget. Every worker who came to our home was punctual, courteous, and cleaned up each day. We truly could not have asked for a better experience!
Nancy B
Staff were so skilled, knowledgeable, and professional. The design team was so easy to work with and immediately saw our vision. The result is so beautiful! We highly recommend this company, you will never be disappointed.
Dick and Joi Hayden
Excellent service and workmanship. We could not be happier with our kitchen remodel. Beth helped design the perfect kitchen and our Lead Carpenter completed the work in a timely and professional manner. Everyone we came in contact with at C&R was great—we are already working with them on a second project!
Roslyn Owen
C & R did a kitchen remodel for us November-December 2021. From start to finish, they provided EXCELLENT service. Beth guided us expertly through making decisions on products and design. Mark led their team of professionals to expertly …
Christy Austin
We just completed a remodel of a 1980 sunroom to utility room, as well as expanding the downstairs bedroom, bath, half bath and closet and are thrilled with the result. It was a pleasure to work with C & R. We were so impressed with the …
Janet Lorenz
Schedule a Free Consultation
Read More Or Submit Your Review
Sign Up to Receive the C&R Monthly Email Newsletter