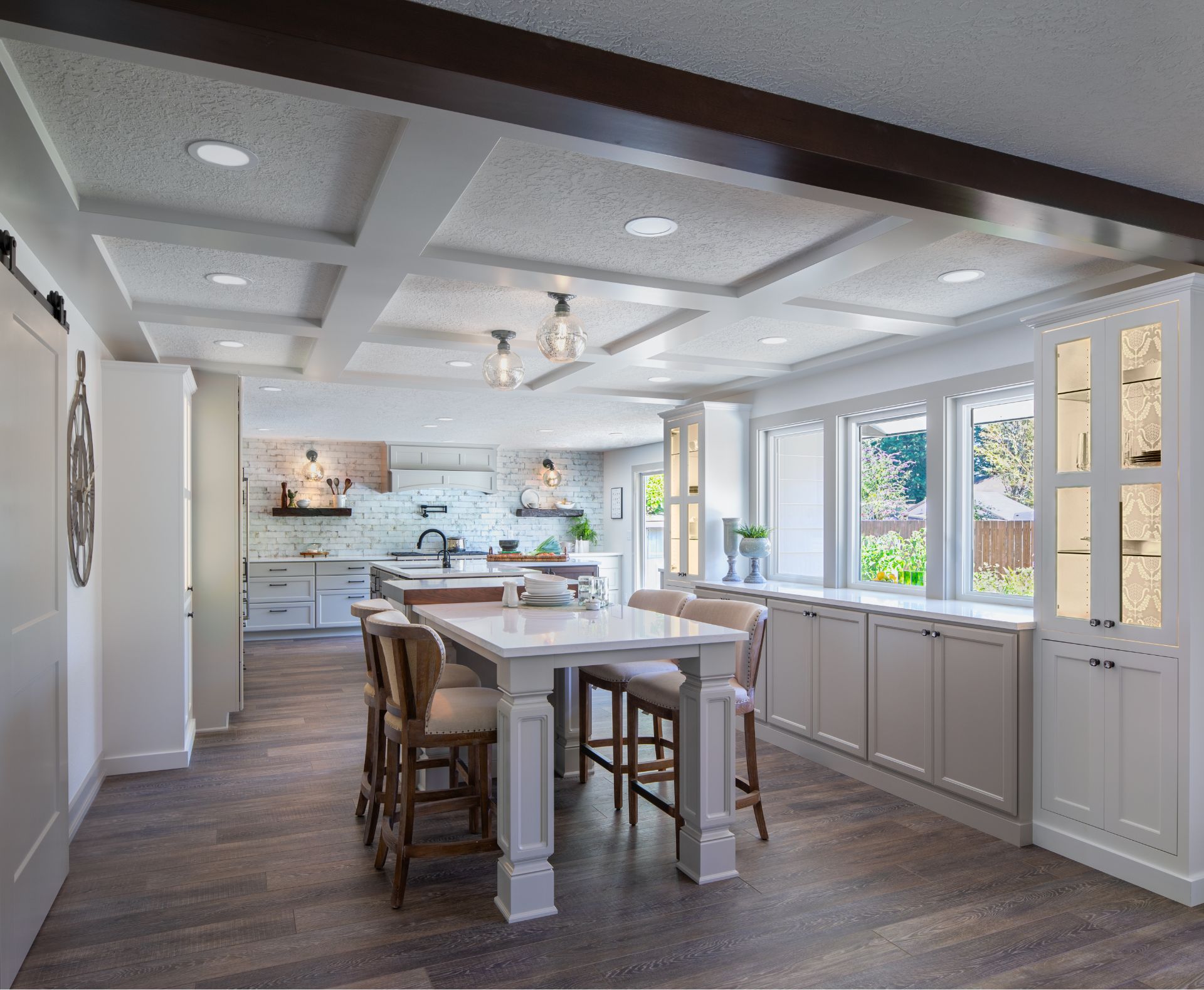 Serving Salem and
the Willamette Valley Since 1961
CHEF'S FANTASY KITCHEN + LAUNDRY ROOM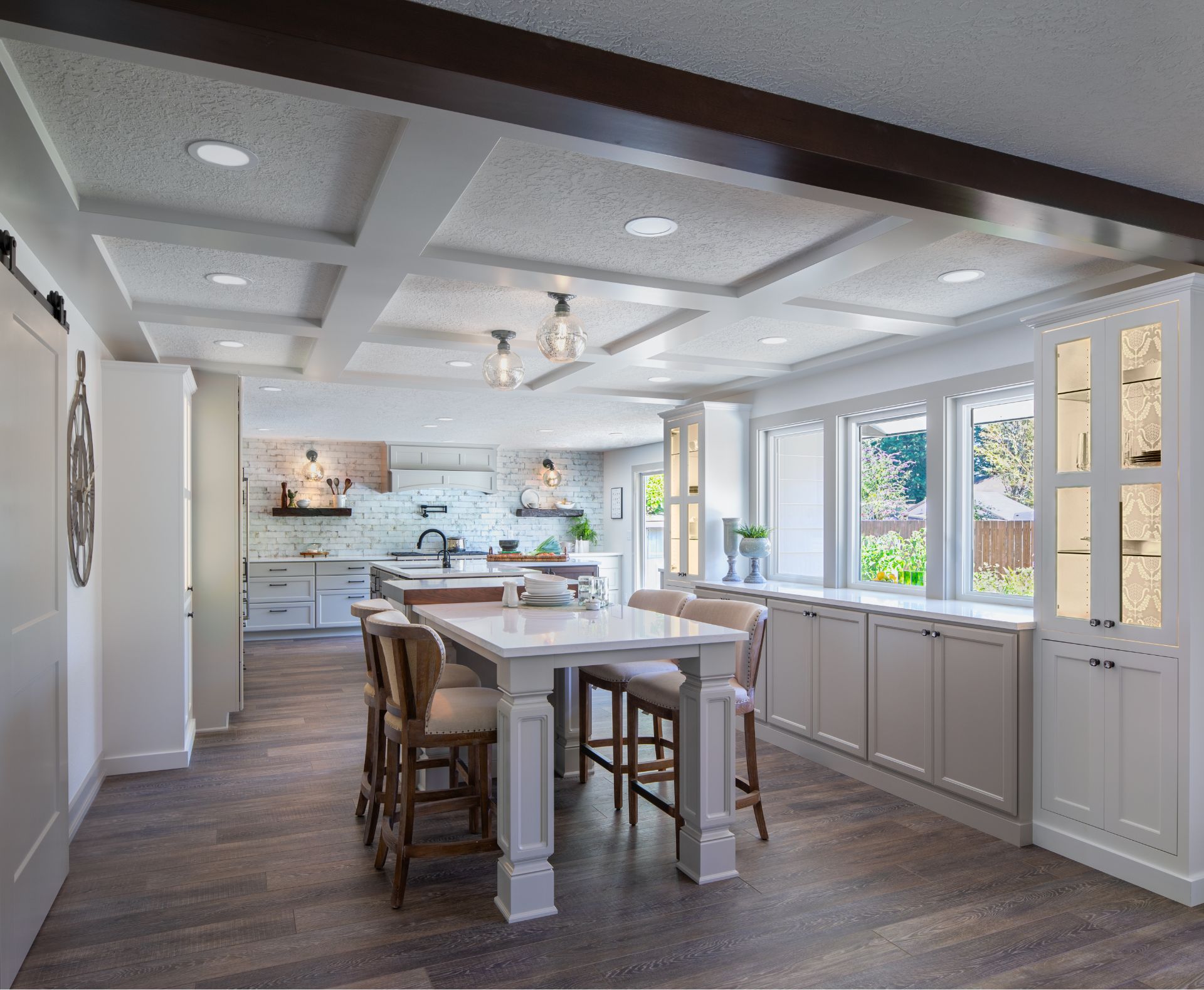 C&R redesigned and remodeled this 70's kitchen with newcabinets, counter tops, tile backsplash, appliances, and more. Walls wereremoved, windows relocated, and every element updated to create atop-of-the-line fantasy kitchen.
When the owners purchased this house, they knew it needed major remodeling.Most annoying was the sequestered kitchen and nook, separated from the diningand living room with several unnecessary walls. The dated decor screamed the70's, including a fluorescent dropped ceiling. The cramped space had onlysmall, basic appliances. Storage and natural light were also at a minimum.
C&R was tasked with a complete redesign and remodel ofthe kitchen and adjacent laundry room. The first step was to create a designthat took advantage of the existing square footage. By removing walls andrelocating windows, the new design included not only one but two massiveislands—one as a 'working island' and the other as a 'dining island'. Withabundant cabinetry throughout, storage was expanded exponentially, making itpossible to forego upper cabinets on one wall. This allowed for a full-heighttile backsplash, making a stunning backdrop for the custom range hood.
Professional grade appliances installed included Wolf gasrange and refrigerator, under-counter microwave, a beverage refrigerator, and abuilt-in coffee maker.
The decor is timeless yet current with a mix of colors thatcreates instant interest. The perimeter cabinetry and dining island are paintedin a subtle gray while the eating island is stained with a striking Walnutfinish. Contrasting counter tops in Quartz and Black Walnut and a wall ofVenetial Vintage tile make a dramatic statement. Upscale fixtures and largewindows provide a pleasing combination of natural, ambient, task, and accentlighting.
The owners say their new kitchen is absolutely fantastic andthat "C&R is amazing, especially the way they listened and brought thevision to life!"
‍
Schedule a Free Consultation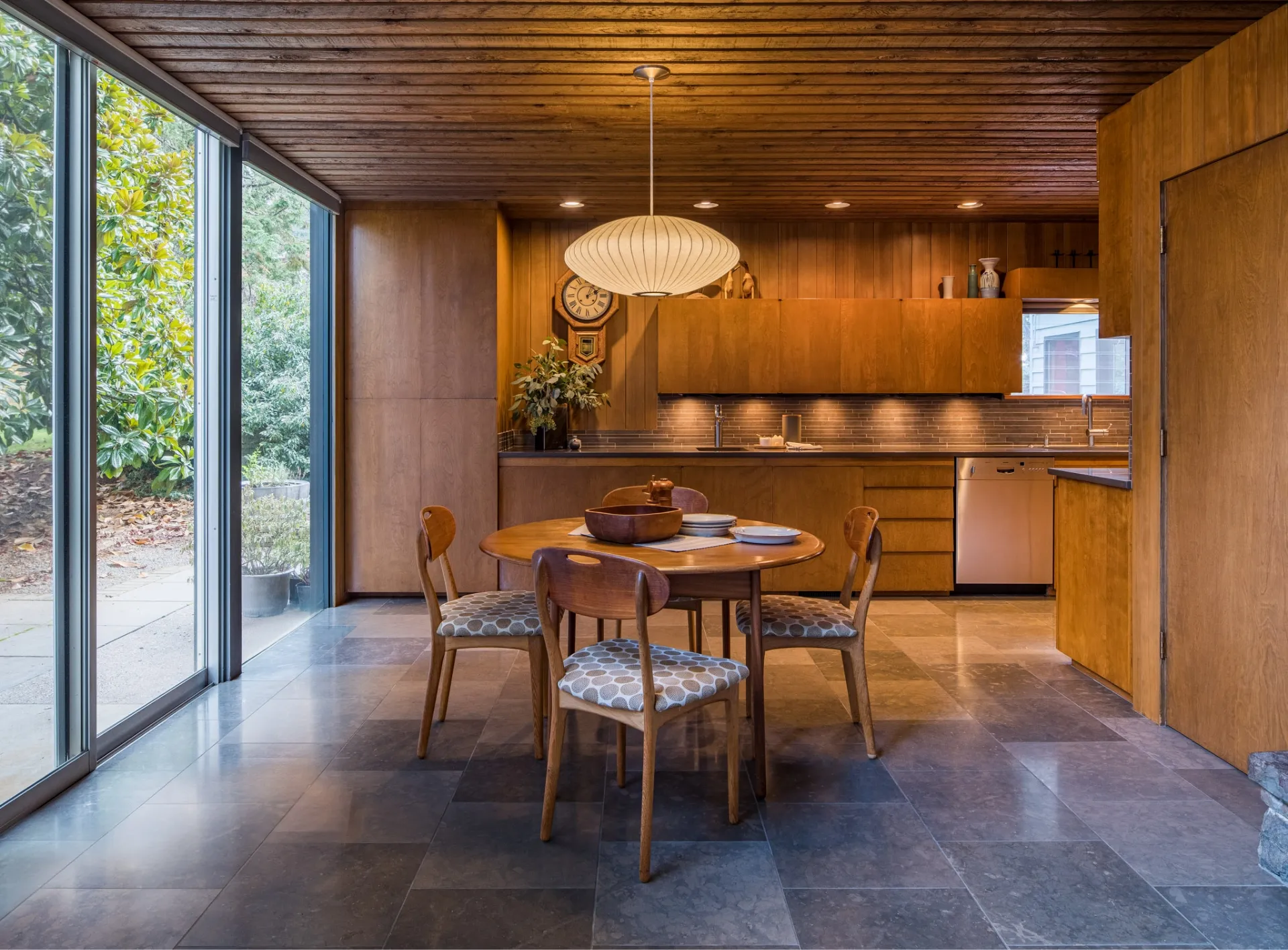 From the initial meeting with Beth to the closeout visit, working with C&R was a pleasure. Beth listened, offered advice, and was willing to work within our budget. Every worker who came to our home was punctual, courteous, and cleaned up each day. We truly could not have asked for a better experience!
Nancy B
Staff were so skilled, knowledgeable, and professional. The design team was so easy to work with and immediately saw our vision. The result is so beautiful! We highly recommend this company, you will never be disappointed.
Dick and Joi Hayden
Excellent service and workmanship. We could not be happier with our kitchen remodel. Beth helped design the perfect kitchen and our Lead Carpenter completed the work in a timely and professional manner. Everyone we came in contact with at C&R was great—we are already working with them on a second project!
Roslyn Owen
C & R did a kitchen remodel for us November-December 2021. From start to finish, they provided EXCELLENT service. Beth guided us expertly through making decisions on products and design. Mark led their team of professionals to expertly …
Christy Austin
We just completed a remodel of a 1980 sunroom to utility room, as well as expanding the downstairs bedroom, bath, half bath and closet and are thrilled with the result. It was a pleasure to work with C & R. We were so impressed with the …
Janet Lorenz
Schedule a Free Consultation
Read More Or Submit Your Review
Sign Up to Receive the C&R Monthly Email Newsletter