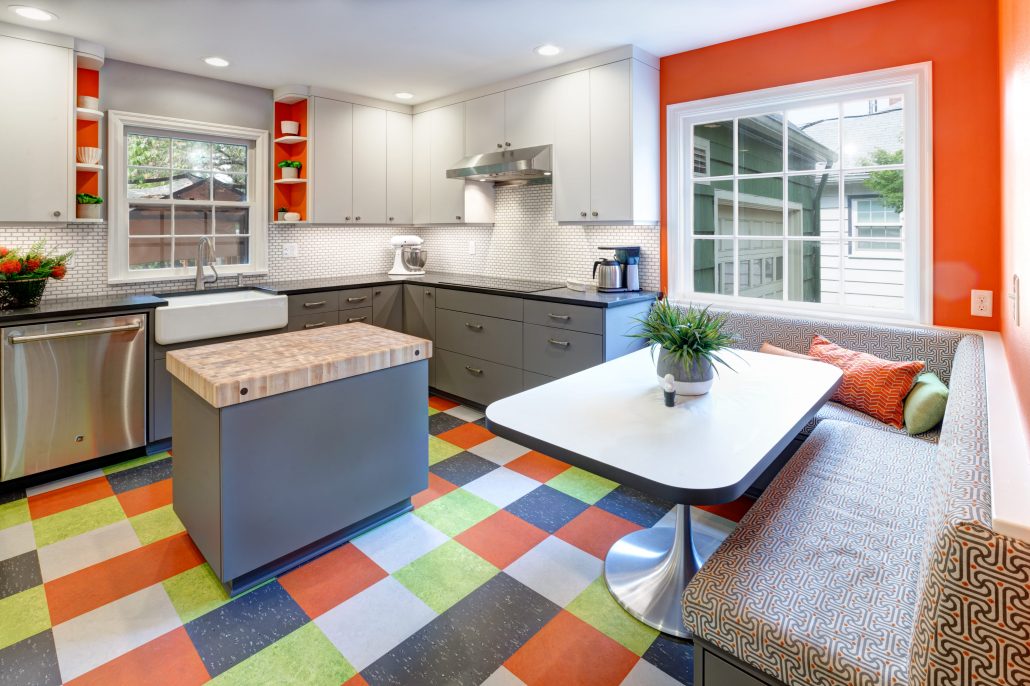 Serving Salem and
the Willamette Valley Since 1961
Award Winning Kitchen Remodel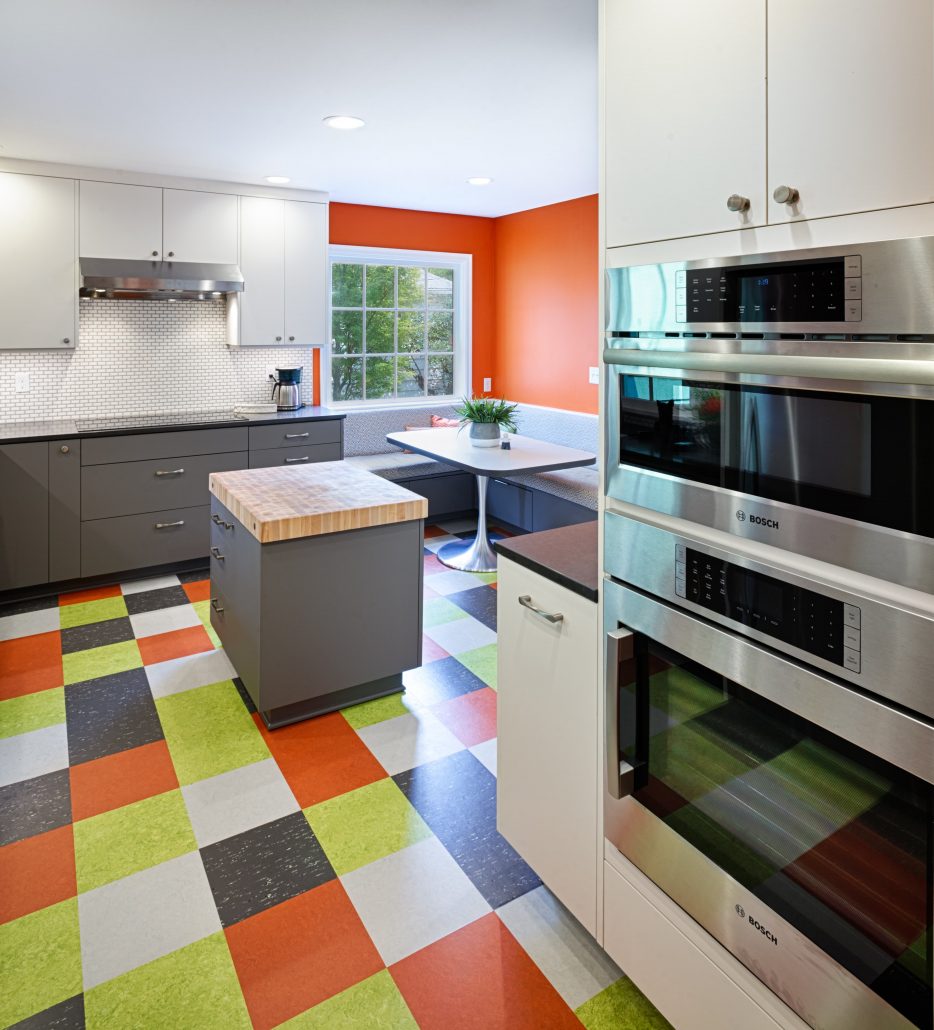 Two newlyweds purchased this World War II era home after they fell in love with the location, cozy kitchen, and vintage style. But a few years later, with an active toddler and a baby on the way, they knew changes were in order.
Their immediate goal was to make their kitchen more conducive to family life. They wanted better traffic flow, abundant storage, a comfortable nook/dining area, and an atmosphere that reflected the joyful spirit of their family.
They asked that our design pay tribute to the history of the house while including all the modern conveniences. They also stressed that they would like to incorporate their love of color, putting their personal stamp on a clean white kitchen.
This project was awarded 2017 Outstanding Achievement Award by the National Association of Remodeling Industry.
Kitchen Remodel Project Overview:
3-D computer design for new kitchen layout.
Interior Design services including material selection and cabinetry layout.
Deconstruction with extra careful attention to dust protection and air filtration (special consideration for pregnant Mom).
New cabinets from "Fenix", a new product with anti-bacterial hard surface doors, drawer fronts, and face frames
Caesarstone "Raven" T-profile countertops on perimeter. Butcher block countertop on island. Painted wood bench top.
Tile backsplash: AnnSacks Savory Mosaic, Rice Paper with Classic Grey trim piece.
Prime and paint interior walls and ceiling. Wall color: Field Poppy.
New plumbing and electrical fixtures. Relocate fixtures to accommodate new plan.
Drywall patching and blending.
Custom Marmoleum floor with hand-cut tiles in designer-specified pattern.
New French pocket doors to fill new wider opening between kitchen and dining room.
The result is a home all four of them love to live in and their friends love to visit!
Schedule a Free Consultation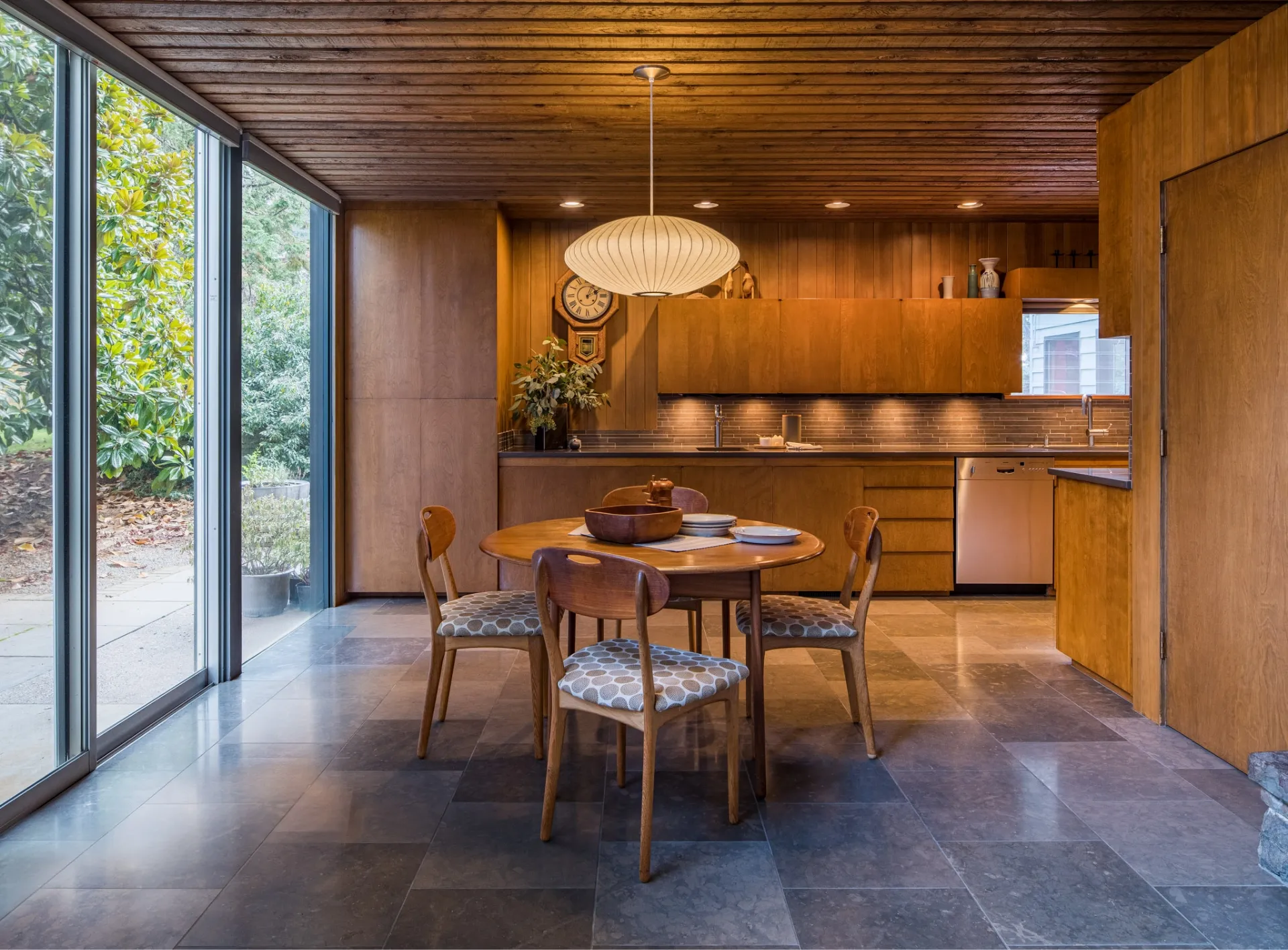 From the initial meeting with Beth to the closeout visit, working with C&R was a pleasure. Beth listened, offered advice, and was willing to work within our budget. Every worker who came to our home was punctual, courteous, and cleaned up each day. We truly could not have asked for a better experience!
Nancy B
Staff were so skilled, knowledgeable, and professional. The design team was so easy to work with and immediately saw our vision. The result is so beautiful! We highly recommend this company, you will never be disappointed.
Dick and Joi Hayden
Excellent service and workmanship. We could not be happier with our kitchen remodel. Beth helped design the perfect kitchen and our Lead Carpenter completed the work in a timely and professional manner. Everyone we came in contact with at C&R was great—we are already working with them on a second project!
Roslyn Owen
C & R did a kitchen remodel for us November-December 2021. From start to finish, they provided EXCELLENT service. Beth guided us expertly through making decisions on products and design. Mark led their team of professionals to expertly …
Christy Austin
We just completed a remodel of a 1980 sunroom to utility room, as well as expanding the downstairs bedroom, bath, half bath and closet and are thrilled with the result. It was a pleasure to work with C & R. We were so impressed with the …
Janet Lorenz
Schedule a Free Consultation
Read More Or Submit Your Review
Sign Up to Receive the C&R Monthly Email Newsletter